Happy Sunday everybody!! If you missed my post about my side table makeover with chalk paint, feel free to click over and catch up. It was the inspiration for this post, and likely many more posts to come. Have I mentioned I've become addicted to furniture makeovers???
First there was the armoire. Then the table. Now my newest project, a TV cabinet I picked up at a yard sale. Since I don't need a TV cabinet, I figured it would make an AWESOME bar for the dining room – with a few modifications, of course.
Ok, yeah that is NOT attractive. Not only is it outdated, it stank of stale cigarette smoke on the inside, which I did not realize until I had it home. It required a lot of bathing with vinegar and lemon scented soap to clear the air. Then it was time to get to work.
Thanks to a wonderful partnership with the awesome folks at Decoart, I was able to get my hands on some new chalk paint for this project. In comparison to Annie Sloan, Decoart has similar pricing, but is available more readily at any local Michaels. (Psst!! You can even use a coupon!!)
*Disclosure: I did receive products from Decoart for this project, but all opinions are my own.
Here's a full shot of the amazing color options available from Decoart's chalky paint line:
I went with Whisper and Timeless for this project. I was aiming for something on the light side to complement the canvas color of our dining room chairs.
I started with a layer of Whisper, and then used a dry brush to scratch the Timeless color on.
After I applied the dry  brush, I blotted it with a cloth.
I think I went a little light on my color choices, so I elected to dry brush some of my leftover stain from my laundry room project. I applied the same cloth smearing technique to add a little wood grain look to the piece.
I still have plans to build up the inside of the cabinet, make it a little more bar appropriate. I haven't had any time to measure it out and get the wood, but the plan is to build up a nice little platform for bottle display, maybe some mirrors and stencils? I'm still working on it,
For now, I revamped the outside and changed up the hardware. Not unhappy at all with the finished look! 🙂
Stay tuned for the rest of the updates. Velvet drawer linings and some interior detailing in progress!!
Have you tried chalk paint?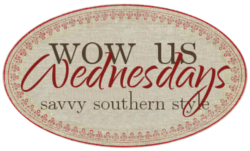 I love linking up at these parties!