This shop has been compensated by Collective Bias, Inc. and its advertiser. All opinions are mine alone. #BirthdaysMadeBrighter #CollectiveBias
Summer is such a bright, cheerful time of the year, and it means different things to different people. For me, summer means bbqs, campfires, the smell of freshly cut grass, and . . . birthday party prep.
Both of my boys have summer birthdays, and it seems just when I finish planning and executing the first one, it's time for the next party planning. I used to go really elaborate and crazy in my decorations and prep, but after so many years, I'm dialing it back. I still want my parties to look impressive, just with much less effort!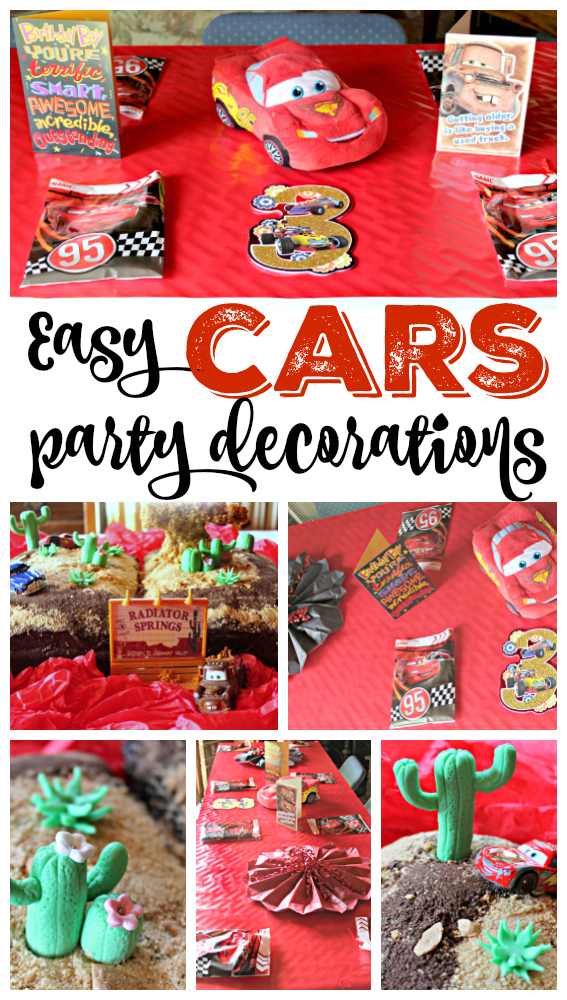 As you can tell from my previous Avengers party and Disneyland party, I have a tendency to put a LOT of effort into my boys' birthdays.  It's fun to wow the guests, but it's exhausting as well. I vowed this year to go simple instead. Well, my version of simple anyway. 😉
While on a regular ole grocery trip to Meijer, I passed by the party and gift supplies section. I am probably a geek (or a party-crazy lady), but I love browsing this section. Meijer always has a great selection of party and gifting swag! I decided to grab some solid color tissue paper and gift wrap to use in my party decorations.
There are DOZENS of creative ways to decorate with tissue paper, and even though I didn't have an exact plan, I knew I could do something fun. I also grabbed a roll of red gift wrap and several bows. There were several American Greetings birthday cards that I thought would make excellent additions to table centerpieces for the party.
This year we hosted my youngest's third birthday party at my family's farm in the country. I love that my sons will be blowing out candles at the same table I did while growing up!
Tips for Easy Party Decorations
Tissue paper is for more than just gift wrap!

In the past, I've used tissue paper to stuff vases or baskets for simple decor. For this party, I folded two colors of paper accordion-style, then folded it in half. I glued the inside edges together, then fanned it out and sealed the outside edges together as well.

Use items you already own!

For this party, my son's toys came in very handy in my decoration planning. One stuffed Lightning McQueen, a Radiator Springs sign from a track set, and three die-cast cars in the images of Doc Hudson, Mater, and McQueen were all I really needed to establish my theme!

Gift wrap makes an excellent table cover – plus easy clean up!

I knew EXACTLY what I wanted the red roll wrap for! I used the majority of it to cover a white folding table for extra seating, and the remainder I laid in the center of the main table, where the cake would be set.

Gift wrap bows and pom poms add "bling" to a basic set up!

I found some fun springy-like metallic pom bows in silver and red that I used to perk up my tissue paper rounds. I also hung a few from various areas of the house, and laid the birthday bows in the center of my table. Such an easy way to scream "PARTY TIME!"

Birthday cards can double as decor!

I've used this trick many times – you can use birthday cards as decor so many ways! String several together into a birthday banner, or, as I did this time around, simple choose appropriate cards for your theme and set up as centerpieces! I found a Mater card, a birthday boy card, and a 3rd birthday card, all of which were PERFECT for my tablescape.

Enamel pins for decoration and gifts!

A car birthday party is bound to have some car-related gifts or decorations, so as well as making your own DIY paper crafts you could also consider making custom enamel pins for your child. It can be used as a gift for each guest and to decorate clothes. It would also be a great match for party decorations. Take a model of your child's favorite vehicle and create a unique gift for him. This exclusive gift can be used both to decorate a carry-on and for a collection.
Throw a summer party in style with these easy party decoration tips!
Click To Tweet
It was admittedly more difficult to find that perfect party set up in a small farmhouse dating back over 60 years or more, but I think it worked out beautifully with my easy decorations!
The running joke this entire party was the fact that I actually had everything set up and ready – including myself! – a whole half hour before the party was due to start!! I was almost uncomfortable with the fact, as it is so incredibly out of character for me!
My other favorite part of this party was the cake I created, with a little help from my cake master cousin! The tissue paper came in help here too, helping to cover the glaring white cake boards that were unevenly housing my two cake halves.
You May Also Like