After I gave my BFF a pretty picture in a frame for her daughter's room (you can find that here), she requested that I put my craftiness to work making art for each girl's room as their Christmas presents. Naturally, I hated this suggestion, and couldn't believe she'd ask such a favor…..yeah, right.  
The eldest of her angels is three, with the new bug being only six months old, Christmas-time. The only instruction of any sort I received was the color scheme of each room – pink/black for Big Sister, pastels for Baby Girl. 
Being who I am, and my current obsession with all forms of subway art, I decided to go that route, and use literary quotes appropriate for children.  I cut out individual letters and words on my Cricut, and, depending on the cut, I traced or outlined the cut on the fabric using a pencil before filling it in with paint markers. (Cricut cuts used were Word Collage, Songbird, Don Juan, Plantin Schoolbook), and I may or may not have splurged on some of these new fonts for my Cricut to finalize these to my satisfaction. I'm glad I did. The pastel one is actually fabric Modge-podged and wrapped around a canvas frame, then painted. The pink/black one is just paint on canvas.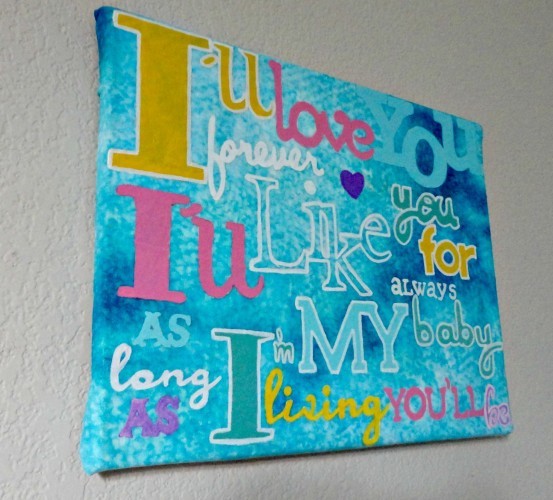 The yellow looks a little mustard-y in the picture, but it's really a pretty color. 
This quote was an easy pick – my BFF says this to her daughter all the time. 🙂
My BFF claims to love both of them – hope she's not just playing nice! 🙂
Someday I'll make post a blog about the hell that is paint markers on fabric…..