Welcome to the 2015 Holiday Homes Blog Hop!
I'm going to share a sneak peek into our home decorations, and then you'll be able to pop over to 20 other amazing bloggers and drool over their fabulous holiday homes!
This is one of our trees. This year we pretended to be uber rich and got two! Last year we had one, which we placed in our front room so it would be visible out the window. Sadly, that meant that we were ferrying gifts from the front room (where we never are) to the living room (where we ALWAYS are) on Christmas morning.
So this year we splurged on two. One for the front, and one for the back.
I absolutely love our mantel this year. I also splurged on a real garland, which I added pearl lights and clip on poinsettia flowers to.
Now that we have children, Christmas morning is always at our home. Therefore, my mother has slowly donated her beautiful decorations to our holiday decor. I love this Santa as one of the pieces.
There's many things about our living room I'd like to update, including our layout and furniture. However, when Christmas comes around, I fall in love with this room all over again.
Thank you for visiting my living room decor, if only for the moment. Now don't short yourself – go check out these other amazing bloggers!
1. Casa Watkins ~ Winter Home Tour, Part 3
2. Kolb Corner ~ Christmas Dining Room Tour and Holiday Homes Blog Hop
3. Green with Decor ~ 5 Must Haves for Christmas Decorating: The Family Room Christmas Tour
4. Karen's Up On the Hill ~ Holiday Hallway and Holiday Homes Blog Hop
5. Twelve on Main ~ Farmhouse Christmas Dining Room Tour
6. The House Down the Lane ~ Holiday Homes Blog Hop: Red and White Christmas Dining Room
7. Creatively Homespun ~ A Vintage Christmas Dining Room
8. 2 Bees in a Pod ~ Guest Room Christmas Home Tour
9. Sew a Fine Seam ~ Dining Room Decked Out For Christmas
10. Knock It Off Crafts ~ Holiday Homes Blog Hop: Festive Master
11. Vintage Paint and More ~ Christmas Home Tour 2015, Part 1
12. Inside the Fox Den ~ Candy Coated Living Room
13. Penny Love Projects ~ Holiday Home Tour
14. Made In a Day ~ Mini Holiday Decor Tour
15. Refashionably Late ~ Holiday Home Hop
16. Pretty Practical Home ~ Simple (and Cheap) Holiday Porch Decor – Holiday Homes Blog Hop
17. Intelligent Domestications ~ Christmas Traditions Home Tour 2015
18. Our Crafty Mom ~ Outdoor Holiday Decor: Front Entry
19. Lehman Lane ~ Green and Gold Christmas Dining Room
20. C'mon, Get Crafty ~ 2015 Holiday Homes Blog Hop
21. My Pinterventures ~ 2015 Holiday Homes Blog Hop – Festive Family Room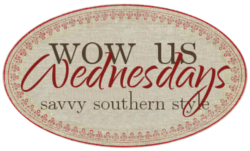 I love linking up at these parties!