One of the best parts of having my boys home with me two days a week is the opportunity to get crafty with my kids. Working from home is hard with two under 6 in the house, and I try my best not to fill their time with too much TV or tablet time. So if I get a chance to get them into some arts and crafts, so much the better!
So I was excited to review these ChalkOla chalk markers and get some afternoon fun in at the same time!
I was sent two sets of ChalkOla chalk markers and one set of their fun chalkboard labels.
I did receive these products free for the purposes of my review, but all opinions remain my own.
Ok, so first off, these markers are BRIGHT. Seriously vibrant, neon colors that basically jump out at you. J and I used his brother's nap time for a little creativity, and tried out the 15mm chalk markers on the kitchen window.
Want to make a kid happy? Tell him he gets to draw on the house.
They specifically mention that these markers are perfect for non-porous surfaces, so chalkboard, whiteboards, mirrors, and windows are all perfect landscapes. We decided to create little pictures for Daddy to come home to. Check out that vibrant orange!
The 6mm markers were perfect for writing with. I actually got J to practice some of his letters by writing out names on the window! Yay for creative learning! 🙂 I could see where these would be awesome for teachers to use in class on a whiteboard. Kids would love to spell in these fun colors! Same goes for moms like me, who just like to see our kids continuing their education at home.
Eventually J tired of the window doodles, but I had this $3 chalkboard from Target lying around, so he moved to a new canvas. Luckily, these markers clean up easily with a wet wipe, or window cleaner. My little artist proudly displays his masterpiece above. I'm told that this is a lake with fishies and seaweed. Sounds good to me!
I also ran upstairs and left a little message for Daddy on our master bath mirror. Keep the romance alive, ladies! 😉
One last craft was calling my name. With St. Patrick's Day coming up, I've been all about my Irish-ness, and started pulling out my decos. A while back I had spray painted an ugly clearance canvas from Hobby Lobby with chalkboard paint for my front entryway. Perfect for mixing up the decoration with the season. These neon chalk markers made for a perfect expression of green!
I will love these markers for creating fun chalkboard decor, though I will need to step up my game if I'm going to come up with stuff as pretty as what's on the ChalkOla Instagram site:

If you want to make your own awesome crafts with these, I've got some great coupon codes for you!
20% Off on Amazon
"CHK20OFF "
6mm Pens
20% Off on Amazon US & UK – Coupon "CHALK20A"
What awesome craft would you make first with these chalk markers?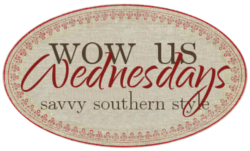 I love linking up at these parties!