I hate to say good-bye to summer, but there's no denying it is on its way out. School is back in session (and is it just me or is school starting earlier and earlier??), and the late summer storms have begun. This month's Craft Room Destash challenge seemed like a perfect time to get a jump start on my fall decor.
Every month a group of bloggers are challenged by me to create a new craft or project from their own stash of goodies! Everyone is allowed a $10 allowance for necessities to complete their project, but the bulk of it must be created from their own stash of goodies. Check out some awesome creations you might be able to make from your own stash! #CraftRoomDestashChallenge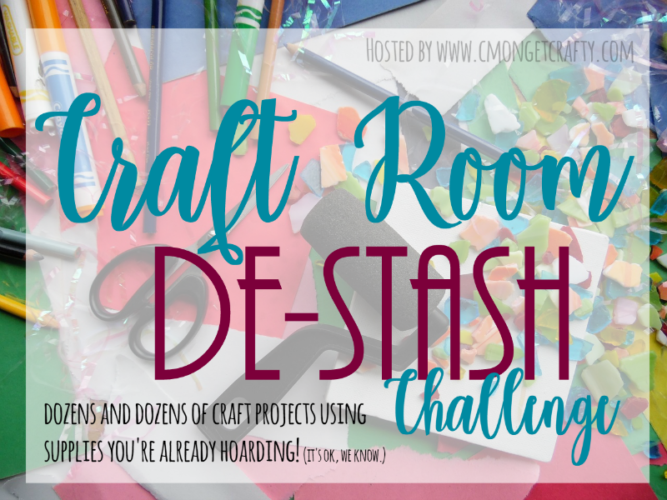 Meet Your Hosts
Craftify My Love | Shoppe No. 5 | C'mon Get Crafty
Domestic Deadline | Across the Blvd | This Autoimmune Life
Modern on Monticello | The Inspiration Vault | My Family Thyme | Stone Cottage Adventures
This project cost me nothing, as I already had all the materials! I definitely wanted to use some of my scrapbook paper, and I found this awesome paper fan tutorial that inspired my project.  This old frame has been sitting around a while and I knew it would be a perfect canvas.
Supplies Needed
Frame
Chipboard letters
Scrapbook paper
Glue
Yarn
Foam Adhesive Squares
Per the tutorial, I folded my scrapbook paper accordion style and tied a knot of yarn in the middle. I snipped the ends of the yarn and glued the paper together to create my fan, using clothespins to hold it closed.
I am loving this crafty trick, and I will totally be using it to decorate for my son's The Greatest Showman birthday party coming up next month. I mean, seriously, how easy is this trick???
Using up your craft stash is such a great feeling, and this easy DIY Autumn decor was a great way to finally use some old scrapbook paper! This is such a simple tutorial! #craftroomdestashchallenge #autumn #papercrafts
Click To Tweet
Once my fan was made, I dug through my stash and came up with tons of chipboard letters. I chose the white ones because I liked the cut the best. I actually thought I would paint them but I liked them as is.
I used foam adhesives to place the letters after gluing the paper fan to the backing. I'm pretty happy with it!