When the folks at Nautica At Home Paint Collection approached me to see if I was interested in using their products to makeover a room in my home, I don't think they realized that I was actually desperate to do a bathroom makeover on my upstairs bath.
This bathroom is primarily my 5yo's (and his brother's I suppose), but it doubles as the guest bath when we have company. With the holidays here in a few weeks, we are about to have plenty of company, so I was anxious to get this done.
The project was a perfect fit! I was asked to provide them with one of our favorite photo memories involving water, so they could create a custom color palette for my space using Nautica At Home signature color collection. The idea is to refresh the space and Bring the Energy of the Water to Your Home. 
I didn't have to think twice about the photo, perfect for the space:
We snapped this shot of our boys during a fun boating weekend this past summer. I knew it would be ideal for the space.
Before long, Nautica had sent a wonderful kit with a custom color palette design.
They also included a beautiful 16×20 canvas print of the picture to hang in the bathroom!
The color palette was phenomenal, and I ended up using three of the suggested colors:
Nautica White
Bait Blue
Sailor's Knot
A quick trip to Menards and I was stocked with my color choices, tape, paint rollers/trays, and brushes to get moving on the bathroom makeover. The plan was to use two colors on the walls, and the third to makeover the ugly vanity. (You know I hate those oak pieces!)
Here's the hot mess it was before:
We really had done nothing with this space since we moved in. Back in Vegas, our powder room featured a Chicago Bears theme, and we basically just threw the orange rug and blue shower curtain in here, anticipating we'd tackle a true design some day. A year and a half later. . . 
The bathroom featured two walls of boring basic towel rods, which I was happy to yank off and Spackle over. Given the colors I was going to use in the space, I decided to go for an illusion of wainscoting by painting the lower half of the room in Nautica White and the top half in Bait Blue.
You guys know the secret to a perfect paint line? MODGE PODGE. No kidding, I lay a thin layer of Modge Podge over the tape and then the paint. PERFECTION.
Here is the breezy, beautiful after!
Omigosh, isn't it pretty!?!
Of course I had to feature the beautiful canvas print that inspired it all!
Also gone are the towel rods, replaced with pretty hooks and a great driftwood-esque shelf.
After a quick priming, I used the Sailor's Knot on the vanity and on the trim I used to frame out the mirror.
It is so much brighter in here now, I'm still amazed at the difference. I tried to incorporate aspects of my children, as well as keeping it pretty and fresh for guests.
Like the addition of my son's crab boat from Cars 2? Works beautifully with the theme of Bring the Energy of the Water to Your Home!
I also kept a display of flowers with a pretty hand towel available for any occupants over the age of five. I'm very happy with the melding of child and adult decor in the space.
I could probably look at this space all day now.
Many many thanks to Nautica for sponsoring this post and letting me fall in love with the space for the first time!
I received free product for this post but all opinions and statements are my own.
What space would you update if you had the chance?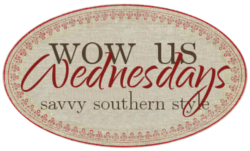 I love linking up at these parties!