Hello my lovelies, and welcome to another helpful blogger spotlight moment! I feel like a broken record, but I've got a lot of great posts coming your way and I'm happy to share the fine work of other bloggers with you in the meantime. Today I'm introducing you to Amy from High Style Restyle!
HI, I'M AMY AND I LOVE RESCUING AND RESTYLING UNLOVED AND OUTDATED FURNITURE.  BREATHING NEW LIFE INTO OLD PIECES TAKES ME TO MY HAPPY PLACE!  I'M SALVAGING THE UNWANTED AND SAVING THE MEMORIES ONE PAINTED PIECE AT A TIME.
Amy's blog is a wonderland up up-cycles and makeovers; I could get lost in her posts for days and come away totally inspired! She not only does her own furniture and home updates, but she does them for others as well! This coffee table turned ottoman makeover she did for a client truly wowed me.
Check out an awesome redo by an equally awesome blogger.
Say what!? That top picture is definitely ugly, but the finished product? Holy gorgeous, Batman! Pop over to High Style Restyle and see how Amy went from boring to beautiful, and remember to tell her who sent you!
Check back with me in two days for a new post showing a pretty sweet makeover of my own!
What's kept you busy so far this summer?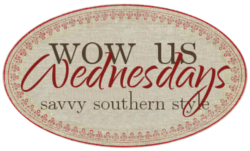 I love linking up at these parties!