Sometimes in our busy lives, there's only time to spray a dash of paint and call it a day.
Welcome to Crafty Quickies! Often I have simple little things I've crafted/upcycled/rehabbed/created that just don't seem worthy of their own blog post. Well, why not? Why be short-ist? (Quick-ist? Brief-ist? I have no talent for fake names alleging slight.)
So here, without further ado, is my first Crafty Quickie!
Re-vamped Photo Frame
This post contains affiliate links.
As you may know if you're a frequent reader, we recently relocated from Las Vegas. Before we left, I was determined to leave my son's two little buddies a parting gift. Splitting up the "Three Musketeers" was one of the hardest things about leaving. 🙁
Enter in some clearance  picture frames found at Hobby Lobby. I believe they were marked down to $3 each.
Mismatched, but who cares? I was going to paint them anyway.
Some Krylon acrylic spray paint and vinyl letters cut on my Cricut, and BOOM!
Here's a close-up of the photo – these three are too cute!
And that's your Crafty Quickie!
Have you ever had to move away from your friends?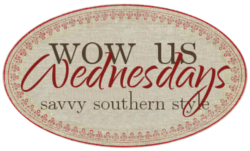 I love linking up at these parties!