This shop has been compensated by Collective Bias, Inc. and its advertiser. All opinions are mine alone. #VinoBlockParty #CollectiveBias The following content is intended for readers who are 21 or older.
Is there anything as wonderful as the delicious pairing of wine and cheese?? …Trick question. Of course not!! One of my favorite things to set up for any party or get-together is a cheese platter. I.ADORE.CHEESE. Any kind! Hard cheeses, soft cheeses, stinky and mild. . . is it cheese? Then I'll eat it!
Ok, so I've never had Limburger, but I adore a good Gruyere or Bleu!
And of course, a cheese platter is an excellent excuse to drink wine….not like I need another excuse, but still. So today I'm sharing a few tricks for pairing wine and cheese, as well as a DIY cutting board server to display it all in style!
As summer progresses, I'm constantly looking for excuses to gather with friends and enjoy the sunshine. I let the men do the grilling, and I bring the cheese/wine pairings. I know summer is typically all about salads and BBQ fare, but if I have an excuse to buy an assortment of delicious cheese and wine, then I take it!
When buying for a group of people, you want to make sure you have plenty to go around without breaking the bank. My go to for these affairs is Woodbridge by Robert Mondavi. My favorites are the Cabernet Sauvignon and Sauvignon Blanc. These bottles are perfect for summer parties!
I always have a white and a red, since certain cheeses pair better with red or white; not to mention that some people are die-hard red or white wine drinkers anyway. Keep the guests happy!
For our last party, I wanted something a bit more decorative to display the cheese selections. Our cutting boards are pretty beat up, and I've been thinking of buying a new one, but they get fairly pricey. So I decided a DIY cutting board that could double as a nice serving platter was just the way to go!
What you need:
Wood boards in chosen shape/style (available at craft stores)
Wood "feet" (I used napkin rings for mine, but any block or peg would work!)
Wood Glue
Food Grade Butcher Block Oil or Conditioner
I wanted my server to be multi-level for added display appeal, so I grabbed one rectangular board as a base, and a decorative heart shaped board to add an extra level. These napkin rings were 99 cents each, and I liked how they would look as my "feet".
Apply wood glue to the bottom of your top block and place it, glue down, on your base. I used a stack of cookbooks to weigh it down and let it sit for 20 minutes. Repeat with your feet. After another 20 minutes or so of drying time, you have a DIY cutting board!
Of course, in order to use it as such, you need to prep it. You can find butcher block oil at any home improvement store. Rub it in with a soft, lint-free cloth and let dry. I did four coats on mine. You could also stain it if you wanted, just make certain whatever you are using is food grade safe. Other decorative ideas could be to wood burn a design or word into it first. Mix it up!
Simple, but elegant, in my opinion! Now for the goodies!!
Msg 4 21+ Style up your summer with wine & cheese pairings and this easy DIY cutting board server platter! #VinoBlockParty #ad Click To Tweet
A good cheese platter has a nice mix of mild and robust varieties, as well as a decent mix of hard and soft cheeses. For this one I selected a smoked Gruyere, an Irish hard cheddar, a Bleu Brie, and seasoned goat cheese. Apples, strawberries, water crackers, and bread slices make for excellent companions. And don't forget the wine!!
Both Bleu and Brie pair equally well with red or white, so dealer's choice on that one. The cheddar is similar in nature. Goat cheese does well with Chardonnay or Cabernet, and I personally prefer the red with the smokey Gruyere cheese.
You can also mix up your platter with other varieties, like Manchego, baby Swiss, Gouda, or even Mozzarella. It's all about trying new things, right?
If you want more entertaining ideas for your next summer block party, I highly suggest you visit the Simple Entertaining Social Hub!
Join the conversation! #VinoBlockParty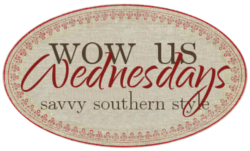 I love linking up at these parties