I don't know about you, but I am constantly finding myself caught up in the words to my favorite songs. Music just has a wonderful way of speaking to the soul, don't you think? Okay, that was a bit poetic for me, but I mean how often do songs bring back memories for you? I love getting caught up in it, and so many lyrics are beautifully appropriate to so many situations. So I decided to create some of my own music lyric art to showcase my appreciation. 🙂
I love all sorts of music, from rock, to rap, to musical theatre, to country and classical. Lately, I have been on a weird cycle, switching from country to Billy Joel, then Michael Jackson, then the soundtrack to The Book of Mormon. (Hubby treated me to the show in August. HYSTERICAL.)
Anyway, I've mostly been playing country in the car on my daycare commute, and so many songs have resonated with me. I started taking notes of particular lyrics and titles that I found inspirational. Then I decided, hey, why not incorporate them into my decor? With fall and Thanksgiving coming up soon, what better song was there to honor than Humble and Kind by the legendary Tim McGraw??
Check below for what you need to make your own music lyric art!
This post contains affiliate links.
Supplies
I took the basswood canvas and stained it. My intent was to trace or outline my token words onto it and paint them with the gold paint.
To create my stencil, first I designed my lyrics using fonts I downloaded on Fontbundles.net. I freaking love this site – they constantly have free fonts, and the bundles they sell are super cheap!!
The font I used for this particular design is Summertime. I did use a different glyph for the tail of the "d" as well as the ampersand. I'm afraid I forgot which fonts I used for those. :/  I used my best friend Picmonkey to create the png image of the font.
Once I was happy with the design, I uploaded the image to my Cricut to get it cut out.
THEN I TOTALLY SCREWED IT UP.
I couldn't get the stencil done correctly via vinyl nor paper. Nada. I wanted to use the outline to paint in over the stain in gold, but there was no way to get it to lay correctly without ripping or bubbling or sticking.  So I set the stencil aside and started over. I store these canvas like crazy, so I had a few to use. I'm sure I can use the other stained one later on.
I started over, planning a reverse stencil. I painted this canvas in gold first. Then I used the cut vinyl to create a stencil to stain over. Using masking tape, as I had run out of transfer tape, I transferred the vinyl words to the gold painted canvas.
Obviously, with the paint on the wood already, the stain is no longer truly a stain, but rather a glossing. However, it seemed to work well.
The stain glossed over the vinyl with no issue. I applied about three coats to get the rich color I wanted over the gold paint.
Once the stain had mostly dried, I began to peel away the vinyl and reveal my gold wording. There were a few areas of bleed through, but not too terrible.
Using a fine tipped paintbrush, I applied gold paint to the few areas of stain on gold. It took a few applications, but it did well to cover a few blotches.
I absolutely love the final product, even after my first botch. I believe this will do nicely as decor for the fall holidays, as well as in general.
I loved this print so much, I made a pillow out of it for my Zazzle store! Check it out! I also have a bunch of other music lyric designs in my shop, from phone cases to pillows and more!
Humble and Kind Simple Throw Pillow
by
GetCraftyCreations
Check out Farmhouse Pillows online at
zazzle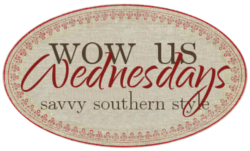 I love linking up at these parties