Holy absence Batman, I am so sorry for being away so long from regular posting!  On the plus side, we are officially IN OUR NEW HOUSE!!!  YAY!!!!!!
This is our first home purchase, and we are in LOVE with our new place. Does that mean I'm going to leave it as is? Not Bloody Likely! 🙂
Now, we've only been in the house for about two weeks, so I haven't done much yet. We painted the living room, that's about it. We're still waiting on furniture to arrive, and frankly, we're just trying to catch our breath. I will have LOTS of home project posts in the future though. While the home is wonderful as it is, I have lots of plans. Lots.
While  I get working on those projects, I've got a few leftovers from living at my mom's to share with you. I did manage to help her with some DIY decor projects during those months together. For starters, who's interested in a Frugal Laundry Room Makeover?
Since we were living with her for several months during our house hunt, a lot of this mess is our fault. 🙁  I'm almost embarrassed to show you how sloppy we could be, but get ready, 'cause I'm gonna! The cat is ours as well, so full blame for the litter mess is on our shoulders!
EW. Am I right? Mom's  mud room/laundry opens off the garage door, and it is pretty narrow as it is. Let's toss in the worst Chicago winter in a long while (great way to renew our acquaintance after five years in Vegas – ugh!), three adults, a cat, a dog, and a toddler. Whaddya get outta that?
A MESS.
Really, all we needed was some spit 'n polish, and a few organizing changes.  Mom has a hall closet, so that held our winter jackets. The mud room had just became a catch all of hats, scarves, boots, and mittens, plus the litter box and actually laundry stuff.
My mom has a million of these little wicker baskets, most of 'em stacked up in a corner, so these were a simple and free fix. The biggest one holds all our ski hats and ear muffs, the middle one holds adult gloves, and the little one holds all of J's little mittens and gloves.
A tension rod and some bronze shower curtain rings created a neat scarf display. It even does double duty to hide the ugly wall and hookups! 🙂
The dog is notorious for eating the cat food, so we always have to have it up high.  At least the little wicker place mat makes it look like a nicer offering for Milo. 😉
For those wet boots, we picked up some inexpensive plastic trays from the hardware store and lined them up.  The best addition to this space is that dark cabinet you see in the corner. It's a special little bench, designed to hide your litter box!  We got ours at Amazon for about $150 or so, and it is SO WORTH IT.  The tray placed outside doubles for boots and errant litter, though the box is designed to reduce the litter tracked outside the box. We love it!
I decided to up the design of the space with some paint and vinyl.  The wall over the folding ledge was just so…so…boring. No style at all. We can't have that, can we???
NO!
Break out the painters' tape people, let's do this thang.
Before you even think to ask, let me just say, YES. YES, my famous impatience reared its head for this project.
Now, I did go so far as to use our laser level for the stripes. Yay, points for me!!
That about sums up my measuring/planning. After a crude sketch in pencil of the lines, which I chose at random spacing on the wall itself, I slapped the paint up and checked the level again to make sure they were still straight. They were. (Mostly. Not so's you'd notice otherwise. Moving on!)
Breaking out my brand new Christmas present may have been the incentive for some vinyl lettering on this wall. Mom gave me a Silhouette, and I hadn't used it at all! How insulting is that to a great gift?!  So a few rolls of vinyl and transfer tape later, and I set about getting my placement correct.
Final touches included a laundry basket that Mom always has here for whites, and a (slightly inventive) solution to the baseball hat problem. (The problem being mostly that my husband has a bunch of hats, and wears about two of them. But heaven forbid they not all be available for selection!!)
I managed to turn this around in a day (since I'm too impatient to let paint dry for 24 hours), and I think it turned out pretty nice! Of course, now that we've moved and taken the car and all our stuff with us, it looks even nicer for Mom. Tons of space! 🙂
What do you want to change about YOUR mud room or laundry space?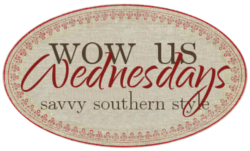 I love linking up at these parties , and at House of Rose!