Welcome to another month of Furniture Refresh projects from our monthly challenge group! This month has some great refreshes, and you will want to check them all out!
For mine, my hectic schedule and other furniture projects piling up kept me from doing anything as in depth as my last few projects, so I wanted to try a quick and easy refresh. With that in mind, I glanced at my craft table in my office, and its boring whiteness.
I put together my craft table from an IKEA desktop and two side storage units. I'd tell you which ones, but I don't remember – and I couldn't find them online, so I wonder if they no longer exist. So sorry for that.
I'll be doing a craft room post in the future, but for now I'm just focusing on the table, and how I added a little "glam" factor to it. Try to ignore the rest of my messy office, lol!
For this project you will need:
Washi tape
No seriously, that's all I used!
A combination of silver and turquoise glittered washi tape was all it took to add some pretty bling to my favorite room.
Ok, so this is seriously simple, I know, but it really has a big impact for all of that. Now check out the other ladies' projects and marvel!

C'MON GET CRAFTY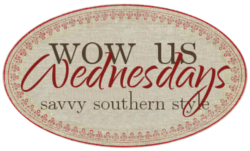 I love linking up at these parties!