I love to decorate for the fall, and over the years I've collected a lovely assortment of pumpkins to decorate with each year. Check out my home tour and different ways to arrange pumpkin decor!
I'm pretty lame about carving pumpkins for Halloween, but I still love decorating with pumpkins come fall. I've collected several different types of pumpkin decor over the years, from ceramic to sparkly to fabric.
For my fall mantel this year, I used my ceramic pumpkins on top of candlesticks and along the length, scattered over a long orange leaf garland. I love the combination of blue and orange in this room.
It's really nice and easy to start off with the fall pumpkins and harvest look, then sprinkle in some Halloween decor. Then, after Halloween, pick off the ghosts and things and you're back to a Harvest look for November.
Last year I focused mainly on the dining room for decor, but this year I kept it more basic and did up the front entryway.  I kept my lantern as my dining room centerpiece and filled it with my sparkly pumpkins, pine cones, and faux leaves.
For the entryway table I mixed up plastic, fabric, and cardboard pumpkins with yellow leaf garland and a few more Halloween touches.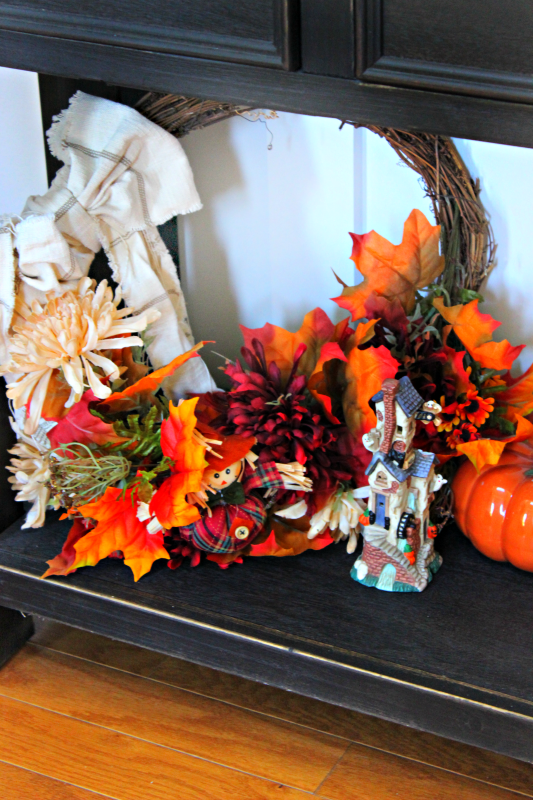 Since I had already hung my reversible wreath, I took my old fall wreath and laid it on the bottom of the entryway table.
This cute little wagon was a find at the Goodwill. It was originally red, but a little paint gave it the rustic look I was going for.
Do you have a theme you like to use for decorating?
 You May Also Like