This is a sponsored post on behalf of FolkArt Stencils & Paints, but all opinions expressed are my own.
My guess is that I'm like a lot of crafters –> a paint addict. I have two drawers stuffed full of bottles and tubes of acrylic and glass paints in a myriad of colors. I'd hazard a guess that about 90% of them are Plaid FolkArt paint.  They make an awesome assortment of paint for various surfaces, so it is really easy to find the right color and paint for any project.
When I was offered the chance to do a project using FolkArt paint and one of their FolkArt Stencil1 stencils, my inner crafter went "Woo hoo!!" Some of you are already familiar with my love of stenciling (and I have more posts in the works to prove it!), so it was no trouble at all to come up with a project idea. Actually, it was tough to come up with just one.
The weather here in Illinois decided to abruptly switch to a cool fall chill, so I've had golden leaves and apples and jackets on my mind the last few days. My selection of FolkArt paint provided for this project had some nice fall colors in it. This is our first autumn in the new house, so decorating is going to be SERIOUS FUN, trying to figure out my "look". For this project, I decided to make myself some new autumn decor!
I had this floating shelf laying around my craft room, waiting to be re-purposed since I HATED it as a shelf.  It was in J's nursery back in Vegas, but a giant pain to install and didn't bear much weight. Looked like a good possibility for a sign to me – its already a nice autumn color even!
My goodie bag of FolkArt included their FolkArt Stencil Adhesive. I have never used this before, but I LOVE it. It is super easy to apply, and one coat works for several re-positions! I only had to apply it to my stencil once for the whole sign!
The secret to stenciling is dabbing.
I like to use the cheap little foam daubers you get in painting kits at Michaels, they do a great job and you can just toss them when you're done!
I thought my stencil looked bit like a fall mum, what do you think? It inspired me to use the Engine Red, Moon Yellow, Fresh Foliage, and Autumn Leaves paints from my selection.
When it was all done, I pulled out my Silhouette and added a little fall phrase in green and gold vinyl to complete the project. See you next year, summer!
I did this project in a day, but the only reason it took that long was because I have kids. You know, so EVERYTHING takes triple the amount of time it should.
The paint dried beautifully and quickly, and I love the way the sign turned out with the stenciled flowers. Now I have a beautiful new piece of fall decor for my house! (Not to mention a fun new stash of FolkArt paint and some awesome stencil adhesive for my next project!)
If you haven't tried FolkArt paint in your craft projects yet (and I find that hard to believe since they are so plentiful and inexpensive at Michaels!), then you REALLY need to pick some up! While you're at Michaels grabbing them, check out their Stencil1 collection and grab a few of those too, they work beautifully!
For more info on FolkArt products, check out the links below:
Check out some other great bloggers' projects below!
What projects do you like using FolkArt paint on?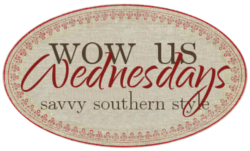 I love linking up at these parties , and at House of Rose!