I am one of those people. You know, the kind that browses the clearance section of any store, wondering what frugal finds I will discover that I can put to alternative use. I'd say I'm running a 60% average on what decor in my home is actually still in its original design. However, thinking this way gives me some awesome gallery wall art ideas to add to my home!
A lot of the time, you can score some basic art in the clearance section of places like Michaels, Hobby Lobby, and Kohl's.  Something simple and seasonal that may not fit your decor, but had a nice basic shape or pattern. I found these Graduate signs for $2 each on clearance at Kohls.
These guys were going to serve two purposes. Three were being added to my photo gallery design (post to come), and one was getting a face lift as a bit of art decor for my gallery wall. Break out the spraypaint!!
I went with a can of Rustoleum Chalkboard spray paint to adequately cover the wording on the signs. Now, for anew design, you could hand paint, stamp, stencil, whatever you want! Imagination is your only obstacle. I went with vinyl. I had some pretty scraps of mint colored vinyl laying around, so I cut them into uneven strips and laid them across my board.
This sign was going to be added to our gallery wall of family photos, so I wanted a pretty sentiment for it. I found this pretty "I Love You" design in the Doodletype® Digital Set on my Cricut.  For anyone without a cutting machine, a stencil would work beautifully as well – or even stickers!
I sized the phrase to fit my sign and cut it out on white vinyl. I buy my vinyl in bulk in sheets of 12 x 12 or 6 x12. I love this seller because it always ships fast and she has a great color selection.
I transfered the "I Love You" cut with transfer tape and I was all done! Time to hang it!
This sign always draws my eye when I walk upstairs. (Our gallery wall is along our landing on the second floor.) I really love it, and it was so simple!! Under 30 minutes from start to finish!
I'll do a full gallery wall reveal in another post, so don't forget to check back!
What gallery wall art ideas have you seen that you've loved?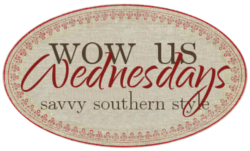 I love linking up at these parties!