I don't know about you, but I'm pretty sure I can't ever have enough of my kids' handprints. J comes home from daycare with boatloads of handprint artwork, and I've saved probably all of them. I actually made a little gallery on my craft room wall of some of my faves.
A hand print ornament just really seemed like an excellent gift for his doting grandparents. And how easy!
All you need to capture your kiddo's little digits is a handful of basic craft supplies – here is my handprint ornament diy!
Supplies
Plain ornament
Acrylic Paint
Fine tip paintbrush or marker
Step One: Slather that hand with paint.
If you've got a Doc McStuffins' fan, you can tell them it'll only tickle a little. 😉
Step Two: Apply painted hand carefully to ornament. Spread fingers as best as possible.
Step Three: Use a fine tipped paintbrush to add cute details to your handprint.
We made J's little digits into snowmen! We also did a few more using brown paint on green ornaments and made reindeer. You can come up with dozens! 🙂
What do you think? Great keepsake for family and friends, or you could even start a tradition and watch the hands grow each year!
Have you ever made a homemade handprint ornament?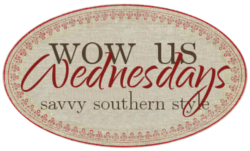 I love linking up at these parties!