So, I'm not sure if you are new here, or a longtime reader…but I don't build things. I'm crafty, yes, but not when it comes to using drills or screws or wood, outside of a basic paint job upcycle.
It is a skill I've been meaning to learn, but up until now, nope. So even though this was a simple project, I was still pretty nervous about my first time. (And all that that implies.)
These six pieces of wood were part of the delivery packaging of our new dishwasher a few months ago:
So obviously there was no way I was going to let perfectly good pieces of wood go to the dumpster, right? I had a number of ideas on how to use them, but with so many projects (and work, and kids, and family, and general mayhem) in my brain, I just set them aside until I decided on one.
After the umpteenth time stepping on J's diecast cars and planes in his room, I made the decision.
Anyone remember the toy car rail I made for J from Ikea ledges when we lived with my mom?
I had sort of re-done that in the new house, but with a long grey ledge I bought at SmartFurniture.com.  We left the existing ledge and Book Nook at my mom's for sleepovers.
Unfortunately (or fortunately, for J anyway), his loving aunts/uncles/nana/etc had continued to help him grow his collection. With Cars, Cars 2, Planes, and Planes: Fire & Rescue, he had a LOT of new character cars and planes to store. The one shelf was not cutting it.
The long shelf from Smart Furniture cost about $35; that's not a ton of money to a lot of people, but I really hated spending it on another single item. Even the Ikea ones I used originally didn't tempt me, since they were shorter than I wanted. The idea of DIY keeps me feeling guilty anytime I buy something that technically I could probably make myself for less $$. (Unless of course the time and skill involved are insane. Then I trust the pros.)
So now I knew what I was going to do with my wood; I just had to do it.
DIY Picture Ledges, here I come!
I bought 3″ wood screws in order to fasten two slats together to make the base for my shelf. All the pieces were of uniform size, and I planned on a very basic concept; screw two together and slap a back on them. Two shelves from six slats.
My hubby isn't crazy great at woodworking, but he knows more than I do. Thanks to him, I pre-drilled the holes for my wood screws to attach two boards for the base. My moronic self would have learned the hard way not to try to just drill a screw in on its own. Cuz that's how I would have done it. True story.
I mostly did ok, but I did end up splitting the board, as you can see. I was only slightly off center on the screw, but I honestly (cross my heart!) blame the board for most of this. They weren't exactly high quality slats, but they were free!
Good thing it was on the bottom!  A little sanding helped out, and the boards needed that overall anyway. LOTS of splinters overall, and I didn't want that issue with J grabbing cars and planes off them constantly.
Once they were sanded down, I painted them grey to match his existing shelf. I still had some of the sample grey paint leftover from another project, so that did the trick. After painting, I coated the shelves in Triple Thick by Decoart to help avoid any splinters I might have missed.
In a moment of nostalgia, I recreated the "Jameson's Garage" sign for above the shelving.
In another moment of Superwoman-ness (well, ok, by my standards. I TOLD YOU, I don't build things), I hung the shelves myself. Me. All by my onesies. With a drill and anchors, no less. RAWR.
Ok, I'm a little lame, and probably an insult to feminism, but hey, I'm honest! 😉
So, how did I do??
For those of you paying attention, I recreated the Cars Wall Art that still hangs in J's old room at his Nana's house. This time I skipped the canvas and vinyl and painted them directly onto 12 x 12 wood canvas. I did use the vinyl cuts from my Disney Pixar Cricut Cartridge for stencils – I'm not that talented that I could do it freehand.
What new technique or task have you taken on recently?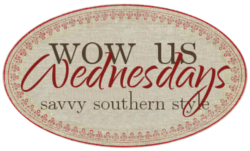 I love linking up at these parties!