So… I have this friend. She regularly causes my skin to turn positively green with envy over the effortless way she decorates her home, special occasion or occasional Sunday. We've nicknamed her Martha Stewart.
As an example, here's a pic of some of her work from the baby shower she hosted for me:
My talented and generous friend Brandi made the "cake" and Lindsey demonstrated her skills on the B-E-A-utiful centerpiece!
.Now this is one, very simple example of Lindsey's enormous talents. Not kidding. Green. So as soon as we started planning Martha Stewart's baby shower, all four of us "planners" agreed: if Martha wouldn't like it, we can't do it.
Now the other girls did some AH-MAZE-ING things…unfortunately, I came down with the stomach flu the day of the shower, couldn't attend, and therefore have no pictures to show their brilliance. I've never been so irritated (nor so dehydrated) in my life. No joke when I say we planned this thing for two months….and I MISSED IT. Angry face!
Anyway, my darling hubby knew I was hoping to blog about my contributions to the shower, and not only did he fill in for me on the whole delivery/setup/attendance aspect while I lay in bed groaning, but he got a fellow attendee to snap some photos for me. That plus some snapshots my fellow planners took helped ease the pain. (A hell of a lot of TUMS also had a hand in that.)
So here were my contributions to the cause…being that my own best friend/accomplice-in-life is back home in Chicago and has a sister and sister-in-law who always run these things, I must admit, it was nice being able to add something to someone's special moment. 🙂
For Lindsey's party, we opted to go with a  garden-like theme – look at the fun decorations we came up with!
We did a nice mix of candy-pops, diaper snails, diaper caterpillars, flower petal cupcakes, and a diaper bouquet.
This Diaper Bouquet is so easy, and can be so pretty!! I just rolled a few baby diapers around wooden skewers, wrapped in small purple rubberbands. I cut little flowers out of pink paper with a floral punch and secured them together with yellow brads, then used glue dots to secure them to the heads of the diaper flowers.  A few bits of wadded up pink streamers and  pipe cleaners with self-sticking pink rhinestones added a bit of "bling".
To continue the garden theme, our sweets were a bazillion (or so it seemed) cupcakes topped with flower petals made from a billion-gazillion (it DEFINITELY SEEMED) tiny cut up marshmallows.
These flowers were such a great idea for the party, and very quickly the most hated part of the shower.
Essentially, you make and frost cupcakes. Then, you spend the rest of your life taking kitchen scissors or paring knives to snip tiny marshamllows in half, which you then toss in a ziploc with various colored sprinkles  and place in order on the cupcake. Now doesn't that sound like fun??? (Pretty sure Daja would rather gouge out her eyes before ever slicing another mini marshmallow.)
The garden theme went along with a "mini" theme and these mini meatball sliders were a perfect fit!
These diaper snails were an idea I cooked up when we started planning it; the
tutorial
 came about much later, since – trust me – these little guys took some work to achieve before I was sure how to make them.
For extra fun and oomph, we created a "signature drink" for the shower. For the masses that were NOT pregnant, we used a Bellini recipe with Prosecco and honey. For the Mom To Be and any others interested in alcohol-free refreshments, we skipped the Prosecco in favor of the recipe below –  Every one deserves bubbles.
It was (pats on multiple backs) a great idea to serve apps in easy plastic cups for carrying – a dollop of Ranch dressing, some cut carrots and celery, and you have a great garden veggie snack! Pasta salad fits great in a cup, and only needs a cute little plastic fork. 🙂
I was brought in on this shindig, but Lindsey's friends/coworkers were the brains behind this operation, and polite enough to tolerate my crazy creative intrusions and opinions. Brandi (from earlier "cake" photo) made a stunning Baby Due Date Calendar Poll, and Becca made the gorgeous bouquets featured above between my diaper snails…can you spot the baby items hidden in the flowers??
Can't wait for the next bundle of joy!!!
Due to popular demand, you can now find the tutorial for the Diaper Snails here!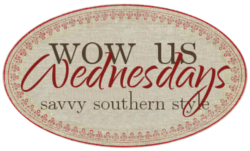 I love linking up at these parties!