It's the most wonderful time of the year – time for the annual 25 Days Of Christmas Movies Blog Hop! #ChristmasMoviesHop
We have 25 talented bloggers gathered together to share with you all the wonderful crafts and recipes you can make this Christmas season, based off of some of the most beloved holiday classic films.  There are 25 films to be inspired by for your holiday season, and 25 talented bloggers to aid your inspiration! If you love Christmas movies, you have come to the right place!!
Let's Meet The Hosts!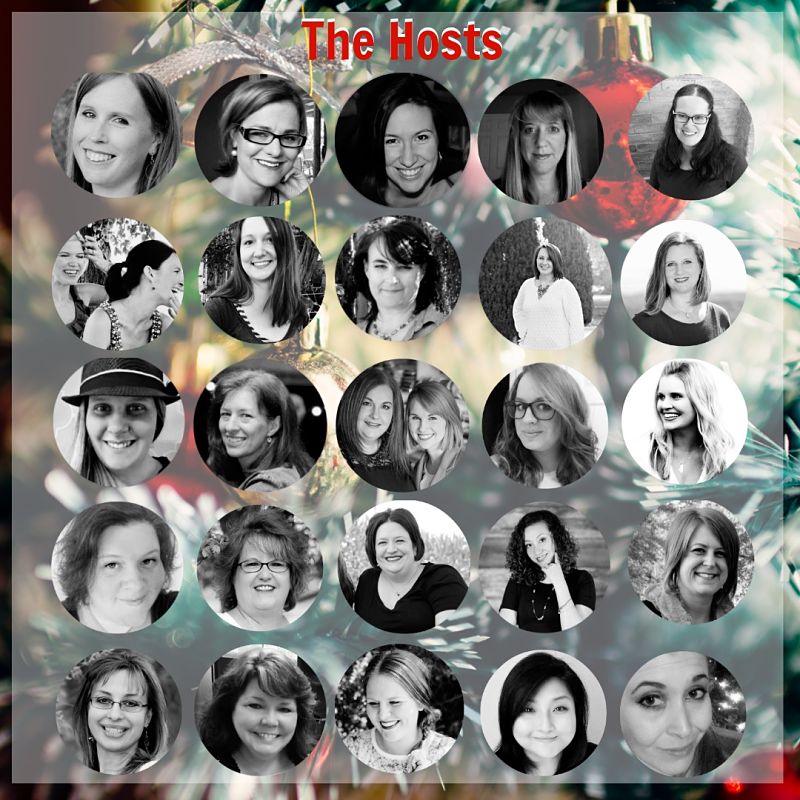 Megan ~ C'mon Get Crafty |  Erlene~ An My Pinterventures | Lindsay ~ seeLindsay
Marie ~ The Inspiration Vault | Maureen ~ Red Cottage Chronicles | Emily ~ Domestic Deadline
Stephanie ~ The Tip Toe Fairy | Rebecca ~ The Moments at Home | Michelle ~ Our Crafty Mom
Pam ~ P.S. I Love You Crafts | Sue ~ A Purdy Little House | Heather ~ The Busy Giffs
Erica ~ 5 Little Monsters | Valerie ~ Occasionally Crafty | Sara ~ The Holy Mess
Tina ~ Sweet and Salty Sisters | Sam ~ Raggedy Bits | Christine ~ Where the Smiles Have Been
Allie ~ Vigor it Out | Lyne ~ Lynn's Everyday Ideas | Evelin ~ Evey's Creations
Nina ~ Crazy for Cookies and More | Carrie ~ A Princess and Her Pirates
Jaclyn ~ The Dotted Nest | Kelley ~ Simply Inspired Meals
Merry Little Christmas Wooden Sign
For my movie, I chose Meet Me in St. Louis. I've had a long love of old movies, and Judy Garland is my muse. She inspired my blog!! When I first chose Meet Me in St. Louis, I wanted to do something truly Victorian, inspired by the beautiful Smith House. I couldn't come up with anything that worked out well though.
*Post contains affiliate links. Read my full disclosure here.*
If you have never seen Meet Me in St. Louis, you definitely should add it to your movie night must watch list! The film is set in St. Louis in 1903. The well-off Smith family has four beautiful daughters, including Esther and little Tootie. 17-year old Esther has fallen in love with the boy next door who has just moved in, John. The family is shocked when Mr. Smith reveals that he has been transferred to a nice position in New York, which means that the family has to leave St. Louis and the St. Louis World's Fair that is debuting in the spring.
Even if you've never seen the film, you've definitely heard the iconic song, "Have Yourself a Merry Little Christmas", which was first introduced by Judy Garland in this movie. It's become a timeless classic, and the scene from the film is equally iconic. Judy (Esther) sings it to calm her youngest sister Tootie, who is upset about moving to New York. It was the perfect inspiration for my Christmas movie craft! 
As I was decorating my front porch for Christmas, I picked up this wooden sign that had been a housewarming gift years ago and I'd placed in the corner of the porch to welcome our guests.It was a cute sign, but it was also perfect for a makeover to a movie themed Christmas sign!
First up was a coat of paint! I grabbed this Deco Art white outdoor paint I had on hand. It took about three coats to cover up the blue and text of the original sign. For my next step, I went straight to Picmonkey.
First step is to click DESIGN.

Change your background to TRANSPARENT.

Crop to the size you need – I used 4×6 since my sign is long and skinny.
Since this is an all text design, next you select your fonts.

You can use the amazing Picmonkey fonts, or you can use your own. I went with my own!

The fonts in this image are Brightside and Flitte. Flitte is the larger "Merry" and "Christmas" font.
Whatever quote you want to create, just play with! I tend to use different text boxes for each line so I can manually adjust the placement.

Save the design as a png format, then open up Cricut Design space (or other cutting machine software.)

Upload the design to Cricut Design Space and save it to insert onto your digital mat.
Once you've inserted the image, size it to the space appropriate to your project.

Send the design to the Cricut to cut! I used vinyl, so I did not need to mirror the image for transfer.

Cut the design on your Cricut!
I used a deep red vinyl for my cuts, to contrast with the stark white of my wooden sign. Once cut, I used transfer tape to apply the cut out to my sign. You stick the transfer tape to the design after you've weeded it (removed excess vinyl), and apply it to your project. Rub the design firmly with a bone folder or credit card and peel back the transfer tape.
Have a merry little Christmas w/ 25 crafts/recipes inspired by movies! #ChristmasMoviesHop #Xmas
Click To Tweet
I used a layer of modge podge over my vinyl as well, to secure it. The paint was sort of peeling back in places from the tape – I probably didn't let it cure long enough. Oops!
I thought it needed a bit more Christmas pizazz, so I added some faux greenery that I had in the bottom of my Christmas bins. Likely they fell off of other decorations, but they worked perfectly for my sign. Just a bit of hot glue and I was all set!
You're singing it in your head, aren't you? 😉
If you enjoy Christmas movies, this hop happens every year! We limit to 25 bloggers, each with a different movie to use as inspiration. I also run a Movie Monday Challenge group that you can join here, for first dibs on sign up for next years's Christmas hop as well as movie crafting inspiration all year long!
Now let's check out the rest of the amazing Christmas creations!