It's that time again, another month, another roundup of refreshed furniture to ogle! I'm SO happy with the distressed secretary table I'm bringing to this party!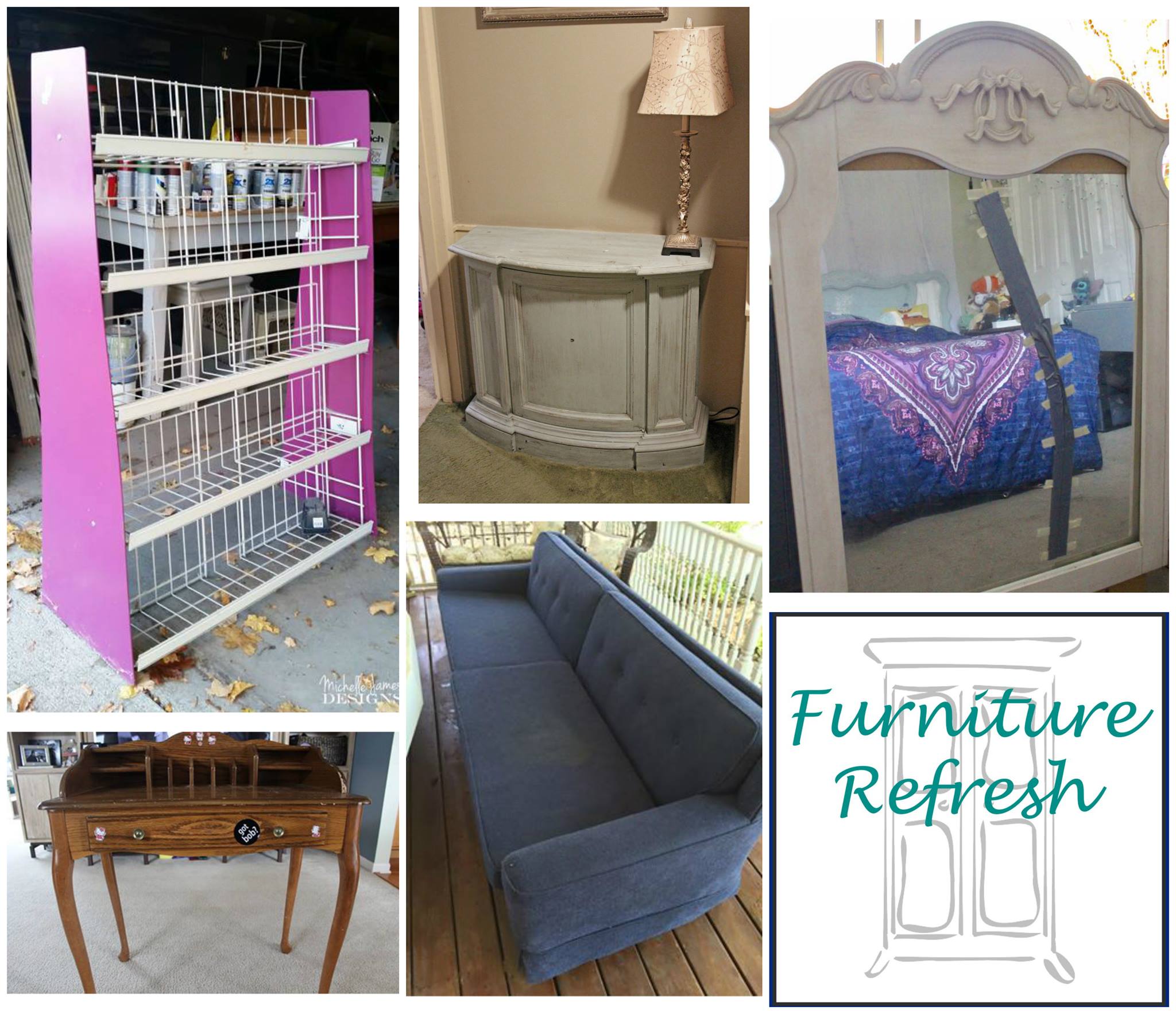 *Post contains affiliate links. See my full disclosure here.*
This month I had a few project options for my furniture refresh. I decided to go with this wobbly laminate secretary my mom scored a month ago for $5 in a yard sale.
First things first, gotta get rid of those stickers! I just don't see my mom as a Hello Kitty lady, ya know?  So I pulled out some Goo Gone and rubbed them down with a rag before easily scraping the stickers off.
I originally wanted to sand sand and stain this piece but I didn't realize it was all laminate at first. I did sand, but for ZERO effect. So out came the paint.
For this project I used Decoart Satin Enamel in Rich Chestnut and Rustoleum Metallic Accents in Luminous Pear. I like a foam brush more often than not for furniture projects.
I took the legs off and drawer out to better apply my base coat. After about three coats I felt I was getting the look I wanted. Out came a bristle brush and the metallic paint.
The technique I went for here was to dab a stiff brush into a small amount of paint and dry brush it on to the wood. Then I took a dry rag and rubbed it off, letting spare scratches of paint remain for a hint of metallic and color.
This project was one of my easier ones, for sure! I'm hoping my mother loves her new painted, distressed secretary table – if she doesn't I might have to keep it for myself!
Be sure to pop around and see all the other amazing furniture refreshes this month!
You Might Also Like