This coming weekend, I'll be hosting my son's 7th birthday party, which he has requested to be Super Mario themed. So this month's Crafty Destash Challenge gave me a golden opportunity to create some Super Mario party decorations ahead of time! Woo-hoo for less procrastination!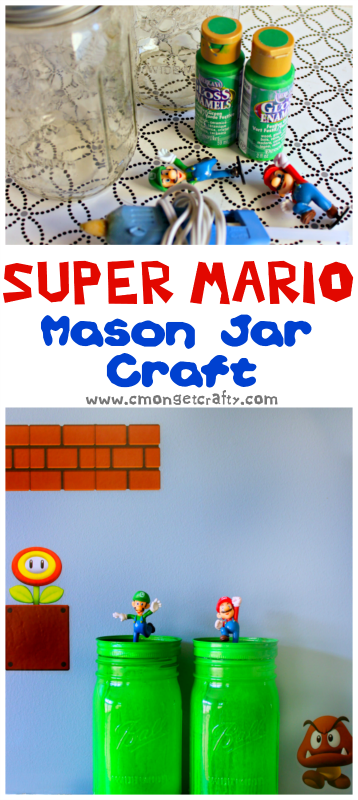 *Post contains affiliate links. Please see my full disclosure here.*
Every month a group of bloggers are challenged by C'mon Get Crafty to create a new craft or project from their own stash of goodies! Check out some awesome creations you might be able to make from your own stash! #CraftRoomDestashChallenge
The rules of the challenge are simple; create a new craft using primarily your own stash of craft supplies, and up to $10 for any finishing or necessary supplies for the project.  In the past, I've made alphabet blocks, signs, good behavior tickets. . . it goes on and on, and it's always nice to clear out some craft room clutter.
Technically it could be said I went over budget, since I used two Super Mario figures from this set I ordered for the birthday party. I'm going to walk the fine line and say that since I only used two pieces, they individually were under ten dollars. 🙂
Here's What You Need to Make This Super Mario Mason Jar Craft
Mason jars
Black paint
Green paint
Hot glue gun
Pour a few squirts of green acrylic paint into mason jar.
You sort of need to judge this one on your own – my paints came from my stash, and are a bit old. I added a small amount of water to get the consistency I needed to coat the jars and not take three weeks to do so.  Gently swirl the jars to coat the inside and lay upside down on wax paper or paper plates to dry.  You will also need to paint the silver rims of the jar lids green and let dry.
Paint the flat lids of the mason jars black.
Any black acrylic paint will work for this.  Just get a nice cover of black paint on the lid.
What crafty creations could you make today from YOUR craft stash?! #CraftRoomDestashChallenge
Click To Tweet
Once everything is dry, hot glue the lid rim UPSIDE DOWN to the top of the jar.
This creates the top portion of the pipe. Next, hot glue your characters to the center of the black painted lid and drop it onto the top of the jar.  And voila! You've got a cute Super Mario centerpiece or party decoration for pennies!
These could easily be used as Super Mario themed piggy banks as well!
I also got these wall decorations on Amazon for the party – find yours here!
How cute are these Super Mario themed mason jars? #supermario #partyideas
Click To Tweet
Now let's see what everyone else came up with for this month's challenge!
You May Also Like