This post contains affiliate links. Please see my disclosure statement here. 
We took a little break during the summer, but we are back again with another Furniture Refresh! Check out my updated buffet, and don't forget to click through to the other links as well!
No joke here, guys, this project has taken me the longest to finish of any project I've ever started. We found this buffet, already professionally stripped, in an antique shop downtown shortly after we closed on our first home. Solid wood and beautifully carved, it was a steal. We bought it and set it in our garage until I could get to work on it. Being nine months pregnant, that took a while….
I wish I had realized originally that there was absolutely no hardware with this piece, though. These drawers had six inch center to center holes, and being curved, required bail pull hardware to fit. After many attempts, we finally found the hardware we needed, but still had to fill and re-drill the holes to make the fit true.
First, we stained the entire hutch with Minwax Bombay Mahogany in satin. It took probably four coats in total until we were satisfied.
My husband (for once) was so happy with our find, that he barely minded losing his garage for several weeks while we labored on the project. We found this piece a week or so after our second son was born, and began work on it about a month later. With a wee one in the house, it definitely took some time to complete.
I did two coats of poly on top of the buffet, end to end. I used a semi-gloss, since I wanted a shine, but nothing too glare-like.
After I finished staining and sealing this buffet, we moved it into our dining room. Where it sat. For two years.
TWO YEARS.
Remember what I said about hardware? Yeah, it was damn near impossible to find. Took forever, lots of trial and error. But finally, it all came together….
Remember the before shot!
And that beautiful after shot. . .
This piece is finally functional! And while I still want to line the drawers to hold my china, at least I can finally use them!
What's the longest you've taken on a project?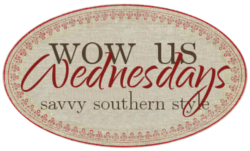 I love linking up at 
these parties