Welcome back to another Furniture Refresh!! Check out how I helped my friend by updating her dining room table for this month's challenge.
*post contains affiliate links*
It's the first Wednesday of April, and that means it is time for another round of Furniture Refresh with some truly talented bloggers. I'm the bad one this month, having rushed to the finish line on this project, and tardy to the party!
My best friend loves to take advantage of these challenges for me to make over stuff for her. Cheeky. 😉 For this month, I did an updated dining room table on her behalf.
Ok, now obviously there is nothing wrong with her table. Her dad stained it a few years ago, it having previously been an oak color. But as she's mixing up her style and starting to make over her home, it was time for an update.
I got her hooked on Fixer Upper a while back, and now (like a lot of the world), she is in love with Joanna Gaines and her style. So she told me she'd like to take this dining room and make it "rustic chic".
First things first, gotta sand off all that stain. (Sorry Dad!)
Sadly, the only sander I own is an orbital. I VASTLY underestimated how freaking long it would take to sand the table using this.
You are looking at FOUR STRAIGHT HOURS of sanding. Yikes. This clearly would not do. So the next day, we ran out and my friend became the proud owner of her own belt sander (that I will likely borrow frequently until I get my own).
Siiiiighhhhhh…..MUCH better. 30 minutes with the belt sander. SWEET!
SO MUCH DUST….
With the table and chairs sanded down, we got to work. The top of the table was definitely going to be stained, but as she wanted a black and white contrast, we need to paint the legs and chairs. (Wood purists, look away!)
We already spend many a weekend with our best friends anyway, so this just turned into a working weekend! Our handsome hubbies and the kids got in on it even!
And once it was done . . .
. . . . wait for it . . . . . .
TA DA!
Thankfully, my friend LOVES it!!! I still need to poly and seal (ran out of time for the post!) but the first step of her new decor is nearly complete! This updated dining room table is going to go beautifully with the rest of the room when I'm done with it.
(That hutch in the background is up next, my project for the upcoming Fab Furniture Flippin Contest!)
Supplies for this project included
Antique White Trim, Door, & Furniture Paint by Pittsburgh Paints
Now be sure to pop around and check out the other awesome projects in the Furniture Refresh April Challenge!!
Do you have a piece of furniture that could use a "refresh"?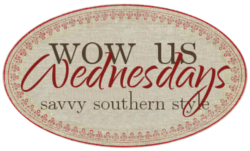 I love linking up at these parties!