It is only September 3rd, and I've got fall on the brain already.
We ended up having a chilly week last week, only getting into the sixties, and I guess it just started prepping me for sweaters and football and leaves. We're back in the nineties this week, but now I'm stuck. Welcome fall, I'm waiting for you!!
To keep my fall spirits up in this heat wave, I decided to start prepping some fall decor. I had some boring old plastic pumpkins – or "funkins" I think they are called – from last year that I decided to spruce up a bit.
Time for a some pumpkin makeovers!
Here are the pumpkins I started with:
For the orange one, I opted for chalk paint and aimed for a distressed, vintage-y look. I know lots of people wig out about painting furniture, but I assume no one would give me too much grief about painting a plastic pumpkin. 😉 I had some DecoArt Chalky Finish paint in Whisper on hand, so I used that.
I only did one coat and I used a bristle brush to help with that distressed look I wanted.
For the little guy, I decided to try a version of those lace wrapped pumpkins I've seen on Pinterest. You know, the kind only Martha Stewart herself could actually pull off perfectly? I happened to have some fun spiderweb sheer fabric in my crafty stash that I figured would look awesome.
I figured I'd use Modge Podge all over the pumpkin to help adhere the fabric but –GASP– I discovered I was completely out of Modge Podge! HORRORS!
I grabbed some clear tacky glue instead and decided to go for it anyway.
After twisting the fabric around both top and bottom, I cut and glued the ends to the bottom, twisted the ends around the stem securing with more glue, and wrapped a black thread to make it look complete.
For the big guy I got super lazy. I still had some great Modern Masters metallic paint in Black Pearl that I had yet to try, and I thought it would blend well with the shimmer of my fabric-wrapped pumpkin.
I said I felt lazy? Uber. I just dumped paint over the top of the pumpkin and let it dribble down the sides. I let it dry overnight and I really liked the result!
Now I have three fabulous new pumpkins for this year's design plan – and it didn't cost me a thing!
This post is part of the Pinterest Party Halloween Blog Hop. Pinterest Party is a Facebook group for pinners who love to collaborate and share. If you're gathering ideas for Halloween be sure to follow along as each post is published. Here's the schedule:
September
1 Paula Atwell  Gothic Lolita Dresses and Accessories
2 Kristen Carrasco Pumpkin Spice Truffles
3 Megan Burgess Chamberlin  3 Easy "Funkin" Pumpkin Makeovers (here!)
4 Corrinna Johnson Creepy Spider Ice Cream Sandwiches For Halloween
5 Sylvia Mayfield  Helpful Halloween Safety Tips With A Fun Halloween Quiz To Take
6  Jamie Dick Yonash  Costume Ideas for Sisters
7 Katy Mitchell  Pumpkin Cheesecake
8 Kori Tomelden – Origin of Halloween
9 Anjanette Young  Homemade Halloween Treat Bags
10 Linette Gerlach  Pumpkin Pie Ice Cream Recipe- Dairy Free
11 Tracey Jade Boyer  Graveyard Cake – The Perfect Finger Food!
12 Ashleigh Walls DIY Halloween Craft Ghost Button Decor
13 Katy Mitchell Halloween Themed Shirts
14 Paula Atwell  Harley Quinn Cosplay Costumes
15 Sylvia Mayfield How to Decorate Halloween Eyeball Cupcakes
16 Corrinna Johnson  Spooky & Cute Halloween Costumes Tween Girls Will Love To Wear
17 Linda Martin Halloween Origin History: Samhain and All Saints' Eve
Do you mix up your holiday decor each year?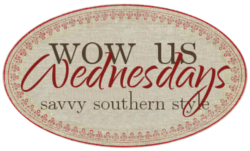 I love linking up at these parties!