I have an obsession with wine bottles. And mason jars. And candle jars. And really any kind of container in existence. I can't make myself throw them out, even to the recycling bin – I can always think of something else I can do with it.(This would account for the cardboard box filled with an assortment of jars and bottles that's sitting in my guest room closet.)
Wine Bottle Crafts!
Wine bottles are fun to play with – and the fact that you need to drink all the wine in them before you can play doesn't hurt either!  I still have a few different ideas for wine bottle re-purposing, but for my first foray, I kept it simple. I just spray-painted it black, using textured black paint, and stuck some berries in it. Voilá!
Nice close-up of the texture
Artistic shot, lol
Simple, but pretty and versatile. I actually did this around Christmas, hence the red and white berries – but it was so pretty, I didn't take it down with the other decorations. =)
For my next trick, I used a Goodwill glass vase, glass paint and rubber bands via a Pinterest idea. It took several coats, I can promise you that. Also, the final result is a happy accident. See, I actually forgot to put the rubber bands on at first. Doy. So, about two coats in, I went "EEK!", slapped my hand to my forehead, and wrapped the bands around the now pale blue vase. Then, over the course of several hours (might even have been several days) I added a thousand more coats. (And if you think that's an exaggeration – well, it is. I don't know how many coats I added. I got trigger happy, so it was a lot though.) Once I was satisfied with my shade of blue, I peeled off the rubber bands – and I like the two-tone blue look even better than the blue and clear idea! To keep it steady, I filled it with white craft sand – the white comes through nicely on the light lines.
See the lines from the bands?
So now we come to my latest triumph. I've taken a few other ugly clear vases I had lying around, and did an inside paint job – poured acrylic paint in, swirled it around, and turned it upside down to coat the inside. Nothing fancy, just a green one and a yellow one, to practice techniques. But this sparked another plan, one borne of necessity.
I keep going in and out of my brush kit for my makeup brushes when I get ready in the morning, and its highly annoying. So how about a few pretty holders for them to sit on my dresser? Enter an old pickle jar, an empty apple vodka bottle, and a small glass candle holder. Add in some pretty blue paint (I used what I had on hand, which was chalkboard paint, but it didn't really matter – I just wanted the "Tiffany" blue color.)  I added some more panaché with these pretty papers from my stash – I am in LOVE with the finished product!
So what are YOU going to do when you finish that bottle of red, or that jar of pickles? 😉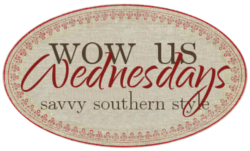 I love linking up at these parties , and at House of Rose!