I am writing these blogs from inside a lion….
As a kid, I had most of these poems memorized….heck, I had most of his BOOKS memorized, cover to cover. I used to amuse my baby brother by reading them aloud, with all sorts of crazy voices and facial expressions – and I can't WAIT for my son to be old enough to appreciate these books!
But I have a problem with patience – insomuch as I hate waiting for things I want. So, while
waiting
(the dreaded word) for my son to come of an age wherein Shel's poems will be amusing, I decided to make some Shel Silverstein poem art with one of my favorite poems, especially since its so perfect for a child's room! It was also another chance to test my skills with the podge.
****UPDATE – SHEL SILVERSTEIN POEM ART TUTORIAL!!****
Sorry for lack of in process pictures – I only just added the tutorial, and never took any at the time.  This was my first foray into any time of canvas poem art, but it turned out so well, I think I'll make another at some point for sure!
This project was definitely time-consuming, but overall not terribly difficult. My lack of patience for once was smothered by my desire to have a nice end result.
Canvas Poem Art How To
Step #1
I took a 16 x 20 canvas ( the kind you can buy in sets at Joanns or Michaels) and applied a liberal amount of Modge Podge to the face of it. I was playing with a new idea (at the time) and laid a piece of fabric down over it, smoothing out any wrinkles and really rubbing it to adhere with the MP.
Step #2
Using my computer, I typed out my selected poem and blew it up to fit the 16 x 20 canvas before printing it out on multiple sheets of paper. I've forgotten which font I used. 🙁 On sheets of wax paper, I took Tulip Dimension Fabric Paint in white and traced the letters of the poem, taped to the back of my wax paper. You should have seen the balcony ledge of my loft, all lined with wax paper and drying paint…
Step #3
Once the paint was dry, I peeled off the letters, Modge Podge'd the fabric again, and laid them out! I did another two or three coats of MP (carefully, don't move the letters!) over the top to give it a really good seal. In hindsight, I should have used a matte finish MP, but I was still a newbie to the Podge at the time.
Some nice art for my son's room….thoughts?
Any favorite quotes or poems you'd want to podge? 🙂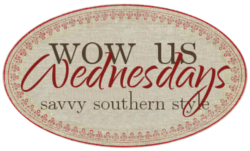 I love linking up at these parties , and at House of Rose!