Use toilet paper, paper, and yarn to make your own DIY Toilet Paper Mummy wreath!
 With only a few days left before Halloween, it seems like a perfect time for another Crafty Quickie! This Toilet Paper Mummy Wreath certainly fits the bill!
If you're struggling for some fun door decor, this couldn't be easier. Best of all – you can REUSE the wreath for other holidays!
*Post contains affiliate links. Please see my full disclosure here.*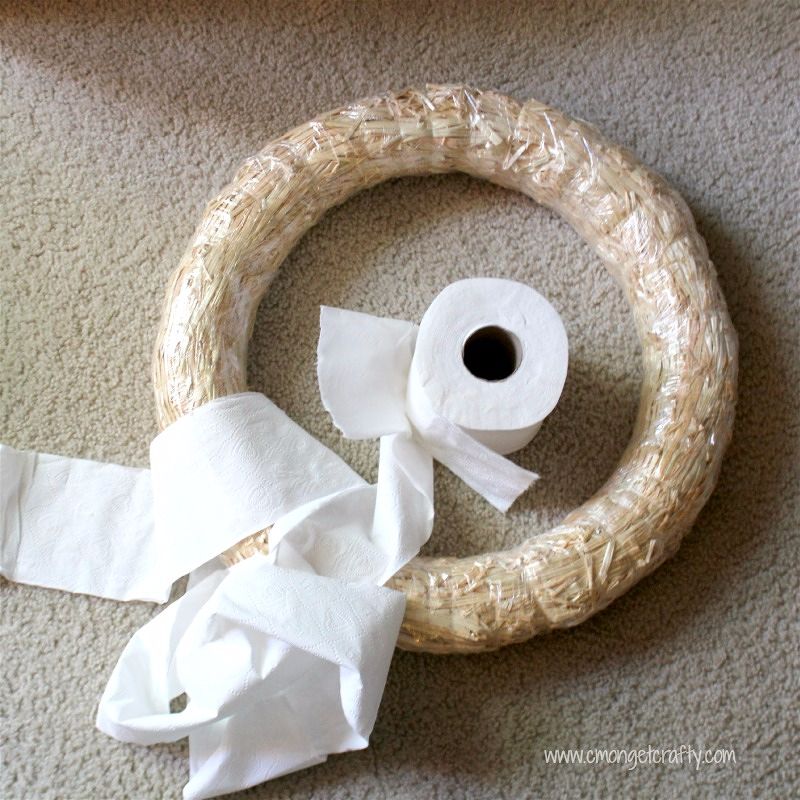 I used a straw wreath, toilet paper, white yarn, and cardstock to make my wreath.
Don't take the plastic wrap off the wreath.
When Halloween is over, you can pull off the TP and reuse the wreath for Thanksgiving and Christmas!
Think Messy.
I was all about the haphazard with this. I didn't use tape at all, I just wound the toilet paper around and around, over itself to secure. When – not if – the paper tore, I started a new roll over the torn bits and kept going. I then took white yarn and wound THAT over the paper, going every which way and even across the center to create a chaotic mess. I'd occasionally snip and tie off the yarn, leaving hanging threads, and start over with a new string. There is NO rhyme or reason to this process, trust me. I was sitting on the floor, half paying attention to what I was doing while watching my son and dog play. Easy Peasy.
It looked okay, but I decided to fill the center with the mummy's face. I taped together two pieces of black 12 x 12 card stock, and used a large circle punch on white card stock for the eyeballs. A small black circle punch gave me pupils.
I didn't really think my mummy would have such wide-eyed innocence, so I gave him some sleepy lids. (Super easy – use a circle punch on an edge of card stock, about halfway up. Done!
Next, simply criss-cross strips of toilet paper across your mummy, leaving room for his eyes to peek out. I did use Skor Tape to secure the TP strips to my card stock.
Mummy Wreath – ASSEMBLE!!
After taping the cardstock to the back of the wreath, I added a few more strips of  TP just tucked into the wreath and dangling out. I also shredded them a bit, along with some of the wreath-wrapped paper. Easy Peasy!! 😀

You May Also Like