**This post contains affiliate links**
As a move across the country looms ever nearer, my husband and I decided we may as well take advantage of our proximity to the Happiest Place on Earth, and take our son on his first trip to Disneyland.  He's recently gone 'round the bend of Mickey Mouse Clubhouse, and he's been a die-hard CARS fanatic since forever. (Which is the bulk of your lifespan at 2 1/2.) So we intended to hit up Disneyland AND California Adventure, where he could meet Mater and Lightning McQueen face to face, and probably faint from excitement overload.
In the hopes of knocking a whole lot of character meet'n greets off our list in one fell swoop, I signed us up for the Minnie Mouse Breakfast  inside Disneyland Park.  I knew from previous experience that the characters will sign autograph books. Now, J is too small to really get that concept, but I figured it would make for some cute photo ops, if nothing else. 🙂
We are on a pretty thin budget with the move – I was already making a hole in the budget by squeezing Disney in at all. I didn't feel like forking over extra money for an autograph book. Besides, what is craft-addiction for if not these kind of moments??
"One man's trash is another man's treasure."
Pardon the awful image – true to form, I concocted this idea the night before we intended to leave for California. My husband attends all sorts of conventions and things and comes home with lots of swag, most of it branded office stuff and the like.  After a NY trip last month, he'd tossed me this notebook, figuring I'd do something with it.
Well, finally, I did.
In the span of about twenty minutes, I transformed this nice yet simple YouTube notebook into a custom Disney autograph book tailor made for my little guy!
For this I used permanent vinyl, my Cricut machine, and my Mickey Font cartridge. A little selective placement, and I was able to fully cover up the YouTube label!
Experience the #DisneySide and #DIY an autograph book for your next vacation! Click To Tweet
What I could not have expected after my brilliant idea is that J, while ecstatic over seeing his favorite characters standing around as we walked into breakfast("Tigger!! Mommy, look, Tigger!"), he was less than thrilled at the prospect of any of them coming near him.
By less than thrilled, picture ear-splitting screams of terror and a flood of tears.
There were only two characters J allowed to come near and even hug him – one was the Fairy Godmother, and I attribute this to her lack of a giant head. The other was Minnie Mouse herself.
I have no idea what made her different from the others, but she was our biggest success – and the ONLY autograph we could get that whole day.
At least we're all set the next time we can make it back to the Happiest Place on Earth!  (Oh, and in case you were wondering….yes. He freaked when confronted with the main Mouse as well.)
Whose autograph would you want from the House of Mouse?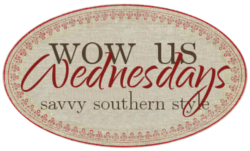 I love linking up at these parties!