So last year, I was ECSTATIC to win a trip from Jones Family Travels – three nights and three-day park hopper tickets to Disneyland!!!
I never win anything, so it was unbelievable that I won. And while it was sudden, there was no way we could pass it up! Miles cashed in for the airfare, and we were booked at the Disneyland Hotel!
Such a wonderful, unexpected getaway for our family, and at the Happiest Place on Earth! We brought along J's autograph book, and he didn't miss the chance to try to fill it!
That trip was in October of last year. We took several amazing photos, but they've been sitting on my Google Drive. What's the point of great vacation photos if you don't show them off!?  So I decided to create a new photo board for J to proudly display his Disneyland memories in his room.
Supplies Needed for Disneyland Memories Photo Board
Three cardboard wreath forms, 1 lg, 2 sm
Ribbon
Tape
Wood Glue
Mini clothespins
Acrylic Paint/brushes
Wooden Sentiments (optional)
So I started off painting my cardboard wreath forms black. I used a dabbing method to increase coverage over a smaller time frame. You could easily spray paint as well.
Secure the two smaller rings to the big one using wood glue, to create your Mickey Mouse look.
Snip pieces of ribbon (I found this Mickey ribbon at Hobby Lobby) to fit across sections of the "Mouse". Secure with dabs of glue and packing tape on the back. Attach mini clothespins to the ribbon.
I found these perfect chipboard sentiments at Michaels. I grabbed two sets, "Wonderful" and "Memories". I painted them red and dabbed wood glue on the backs of each and secured them to my "Mouse".
Then just clip your memories to it!

Have you been to Disneyland? What are your favorite Disneyland memories?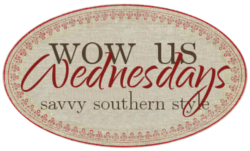 I love linking up at these parties!