I'm technically cheating, since I made this last Halloween.
But I didn't blog it, so it's fair game!  Now you will also be able to forgive the less than stellar photographs, since I did this prior to picking up some blogging and photography tips.
Check out my Halloween Subway Art!
One of my first purchases for my Cricut machine was an electronic cartridge, Word Collage.  It has quite a few fun cuts, but I started with the Halloween cut. I made this prior to discovering the wonderful world of freezer paper stenciling or vinyl, so I ended up cutting the design out on cardstock, and gingerly painting through the design to canvas.
Of course there was some bleed through, but overall it worked pretty well – only required a few minor fixes! I used it myself for a bit before I sold it in my Etsy shop – I'm happy my art was able to help someone else get in the Halloween spirit! 🙂
What kind of decorations do you like to put out for Halloween?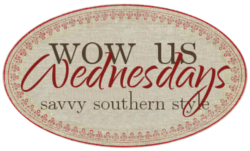 I love linking up at these parties , and at House of Rose!