It's time for another Monthly Crafty Destash Challenge, and I'm sort of loving this month's creation! I made these Monster's Inc Popsicle Stick Ornaments and DIDN'T SPEND ONE DIME!
Every month I challenge a group of bloggers to create a new craft or project from their own stash of goodies! The rules are simple: use primarily items already in your craft room stash, and up to $10 for necessities like paint brushes or finishing touches. Check out some awesome creations you might be able to make from your own stash! #CraftRoomDestashChallenge
*Post contains affiliate links. Read my full disclosure here.*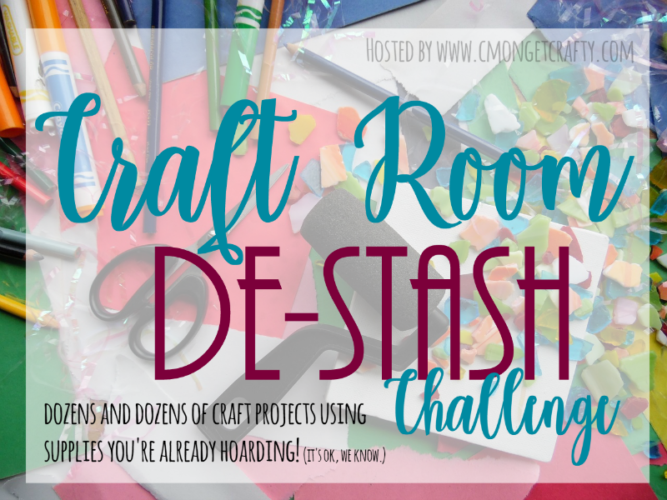 I was struggling for inspiration this month, I admit. I've been trying (well, it seems like I always am!) to get better organized, de-cluttered, more streamlined, etc. In the course of all that, I was fresh out of creative juices. So I decided to let the idea of craft room de-stash be SUPER LITERAL and started digging through my drawers for anything I was overloaded on. I found plenty of popsicle sticks, paint, googly eyes, etc. So I opted for a jump start on Christmas by making ornaments, and since I'm a huge Disney fan, I went with one of my favorite movies,
Monster's Inc
!
What crafty creations could you make today from YOUR craft stash?! #CraftRoomDestashChallenge
Click To Tweet
Supplies you Need to Make Monsters Inc Popsicle Stick Ornaments
For this challenge, I was able to make my popsicle stick Monsters Inc characters without spending anything! I happened to have small wooden sticks as well as normal ones. I used the small ones to make Mike Wazowski's character, and two sets of the longer ones for Sully and Boo's door. You could also use the small ones to make a Boo, dressed up in her purple monster outfit!
After I hot glued the sticks together, I painted them in green, blue, and white. Green for Mike, blue for Sully, and white for Boo's door. I made sure Sully was a little wider than Boo's door with an extra stick.
For Sully, I painted added splatters of purple by dabbing a paintbrush into the paint and dabbing the sides of my Sully popsicle stick ornament.  For Mike, I broke one small stick in half and glued them to the back to create his little horns, before painting him green. I painted the door white and went in search of flowers. Boo's door had little pink flowers on it, and while I knew I could paint them on, after I found THESE in my craft stash, I decided to use them as well!!
These silver brads are part of a larger collection I acquired years ago in a garage sale, but haven't really used much. I used the single brads as stamps, and painted the corner pieces for the bottom part of the door. Another brass brad piece made a perfect doorknob.
I wasn't honestly sure if I was going to use these Monsters Inc popsicle stick crafts as magnets or ornaments, but I decided to go with ornaments and hot-glued ribbon to the backs of the ornaments. These should be fun for my boys to hang on our Christmas tree!
For a simple craft, these popsicle stick monsters are perfect, and fun to create! No one needs them to be perfect, you can still get the general idea, especially once they are all together.
Love #Pixar and simple, fun crafts? Try these easy Monster's Inc popsicle stick ornaments! #diyornaments #craftroomdestashchallenge
Click To Tweet
Now let's see what everyone else came up with for the challenge this month!
You May Also Like