Now, of course, the crafty girl in me required at least an ATTEMPT at making my own t-shirt. I mean, come on, I pretty much had to!
Well, in a sense.
My brain refused to come up with anything fun for a tee for myself or the hubs.  A clearance onesie at Toys R Us while shopping last week also decided the recipient of my experiment would be a bit more….pint-sized.
I decided to make a DIY Halloween shirt (well, onesie technically) for my besty's youngest. Largely because when I "conjured" up the design, it was most appropriate for sweet little A.
Of course, my ever faithful Cricut came into play.
Using a pretty cute little witch design from Teresa Collins Chic and Scary, and pretty much any font of your choice (I went with a Disney font – Hannah Montana, actually!), this design is cute and fun!
I flipped the design to cut on my iron-on vinyl.
Now, I did have a BIT of trial and error with this one.  I finally Googled realized I needed to let the design cool after the iron on process before attempting to pull off the plastic backing.
It turned out pretty cute!! Cute enough for its SUPER CUTE recipient, right?
Unless, of course, the cutie in question is NOT in the mood….

I've been assured that lil Miss A was NOT protesting her adorable onesie, but in fact was just a miserable little thing all weekend. Not exactly living up to her new outfit, is she?  (But still too cute for words!!)
So, after that attempt, I think I'll happily take a gift card for a professional shirt instead!!
Or just design on on Zazzle.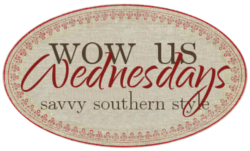 I love linking up at these parties!