Valentine's Day just seems to be one of those holidays I never remember in time to craft for. It's like I have a mental block against it or something!
The sad thing is I have so many ideas I've cultivated on Pinterest that I'd love to try! Here are 14 Valentine's Day Crafts I will hopefully find time to try next year! 🙂
I haven't had much opportunity to try my hand at pallet projects, but this one from Diva of DIY looks worth a try!
I was equally taken with and excited about her other projects, like these Valentine's Blocks and No Sew Pillow!
If you are a hoarder like myself, you probably have plenty of jars available for this great wrapped jar craft from Three Different Directions:
This is such a pretty Valentine's Day craft from Philzendia:
I think this picture frame from Simply Stacie could be an awesome family craft – get the kids involved! Maybe make one for the grandparents?
If he didn't have one being made as part of his school project, I would think this would make a great Valentine's box craft for my son!
Curious George was always a favorite of mine, and I love watching it with my son. This would be such a cute craft to do together!
I've seen those fleecy tie blankets before, but this  is a pillow done up the same way! How cute!
If you don't have plans for Valentine's Day yet, here's a cute Date Night Jar from DIY Budget Girl!
I might be making these adorable Love Bug Pencil Toppers from Pepper Scraps with my son for his class Valentine's – they are such cute little guys!
More adorable mason jar crafts, this set from Savvy Saving Couple. I love how little it takes to make such cute little gifts!
These photo Valentine's from The Thrifty Couple are so clever and adorable!
 I've done wreaths for St. Patrick's Day, Halloween, and Christmas, but never for Valentine's Day. I think this fun wreath from Mama of 3 Munchkins would be an awesome addition to my Dollar Store Wreath collection!
Do you have a favorite craft for Valentine's Day?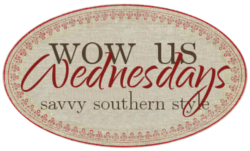 I love linking up at these parties!