Make your own Valentines this year with some free Pixar printable valentines, blank and ready to color with your kids for classroom parties!
*This post contains affiliate links. Read my full disclosure here.*
For J's daycare Valentine's Day party tomorrow, I wanted to get into the spirit and make valentines for his class with him.
I also really, really wanted to use my Cricut's drawing feature. I haven't used it since I made the invitations to J's Finding Nemo birthday party.
Actually, the party gave me the idea for the valentines. I haven't done NEARLY enough with the awesome Disney Cricut cartridge bundle my mom bought me for my birthday last year. J's definitely a Disney kid, so why not make our own Disney valentines?
I wanted to be able to make them with J, so I thought designing some printables to color would be a great little activity for us! Best of all, I was already partially done, since I had previously designed some cuts on my Cricut software. Yea for shortcuts!
If you're not familiar with Cricut or cutting machines, they are THE BOMB. I got a Silhouette this past Christmas, but I haven't really had time to play with it yet. My Cricut is my baby.
I love getting to design the characters and cuts online, to see how they will look, before cutting. (Or, in this case, drawing.) That's the other cool thing – Cricut sells Cricut pens to replace the cutting blade – so instead of cutting out your design, you can draw it right onto your paper! That was the plan for this project.
Dory was already designed and saved in my software from the party, so I just tacked on the wording for the Valentine's theme. Easy Peasy!
Ok, so Pooh Bear doesn't fit the Pixar mold of the rest of the valentines, but he was also already designed – I made him a long time ago while designing my Winnie the Pooh Pop-Up Card. So he got a sentiment and got thrown into the mix.
Can't do Valentine's Day Pixar Printables without Mike Wazowski! 😉
I designed a few more; Mr. Incredible, Squirt (also left over from the Nemo party), Sully, and Wall-e. Then it was time to get them drawn!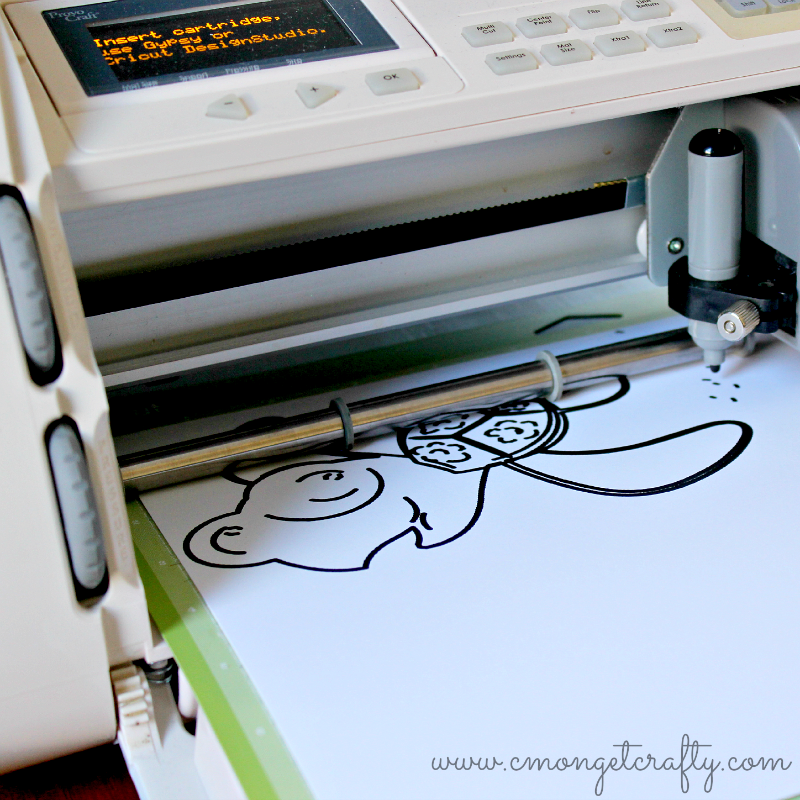 You still have to have them cut in their individual layers, but it's much faster than when you're ACTUALLY cutting and changing paper colors and things. I love this feature!
I had them drawn on 8 1/2 x 11 in cardstock, taking up the greater portion of the page, so that they would be nice and clear. Then it was a matter of scanning them to the computer and scaling them down to a more manageable size. I printed out several pages, and J and I went to town on coloring them. J got a spanking new box of markers for the occasion, and Mommy got to play with her poor neglected Copic markers.
I just loved having him crawl into my lap to color together!!
After we got them all colored, I cut them out just willy-nilly, and layered the images onto colored card stock scraps. They are so cute!
Now you can use them too! Just click on the image, then right-click and Save As. I hope you have as much fun as we did!
What Disney characters would you like for Valentine's printables?
You May Also Like