After the success of J's Nemo Birthday Party for his third birthday, I knew I had to come up with something just as fun for his fourth birthday.  This time, I decided to ask J what he wanted his birthday to be like. The answer?
"Avengers Birthday Party!!!"
*denotes affiliate link
Yeah, I probably should have seen that one coming. In the last year, J has gone absolutely gaga for superheroes.
Time to get to work! Naturally, I started hunting Pinterest for Superhero and Avengers birthday party ideas – you can check some of the awesome pins I found on my Entertaining Ideas board.
I got started with some invitations. It had been a long time since I'd made a handcrafted card, so it was sort of a return to my crafty roots moment.  I used the print and cut method from my Silhouette on a few Avengers icons I found online, and got cutting.
I sort of melded my two card making processes – handcrafted on the outside, digitally designed on the inside. I used my favorite tool, *Picmonkey, to blend some digital clip art I purchased (Spidey), with some I found (Marvel) and make a really cute invite. I love that you can use your own fonts, since I had the perfect superhero fonts on my computer!
I really liked the Avenger icon cuts on the cards, and thought they would make pretty neat cupcake toppers!!
Sidenote: I understand why cupcake toppers come on sticks now. My toppers ended up wet from the frosting pretty quickly. :/
A few of my projects took some extended time. We had ordered a bounce house to help entertain the rambunctious four-year olds, but I wanted another, Avengers-esque type of entertainment as well.
The Hulk Smash Wall was a fun idea on my Pinterest board.   I started saving all the diaper boxes and Amazon boxes I could.  Time to paint!
I had leftover red paint from J's Superhero Side Table, so I used that on the boxes, and a sharpie to outline the bricks.
It was a huge success! The kids had just as much fun building the wall back up as they did knocking it down! We also had a great chance to teach some sharing skills, as we only had one set of Hulk gloves that I found at Party City.
Not all of my ideas panned out as well. I attempted to make candy Hulk heads out of melted chocolate and marshmallows, but they ended up looking more like a demented science experiment.
FAIL.
I had better luck with my superhero cityscape. More boxes, painted grey this time, and with cardboard cutouts for windows, and a blue tablecloth backdrop for sky. The intention was to have it work as a photo backdrop for the kids – but they were too busy playing to care! Haha, at least it made a cute decorative addition to the party.
Little Jack was my only model – fitting, since he modeled my Dory hats at J's Nemo party the year before!
I managed the rest of the decor with a mix of handmade and Party City supplies – a few superhero masks, tablecloths, and a poster.
In hindsight, I wished I'd done a more colorful backdrop for the dessert table.
But the masks were a lot of fun!
Before the party, J didn't have one single Avengers toy/shirt/anything. Afterwards….well, let's just say he's set. 🙂
Oh, I very nearly forgot!! My other favorite part of the party was the iron on onesie I made for J's two month old baby brother. 🙂
I created the image in PicMonkey, featuring clip art I purchased on Etsy, and used printable fabric transfer paper to iron it on to a plain onesie.  How cute is this??
If you'd like to make this cute shirt for your kid, I'm giving you the pattern I created!
All in all, we had one super cute and fun party, and J had so much fun with his friends. Can't wait for next year!
Oh crap. Next year I'll have TWO parties to plan!
Oh, and be sure to stop back by on Sunday for my Crafty Quickie: DIY Thor's Hammer! 
What is your most/least favorite part of party planning?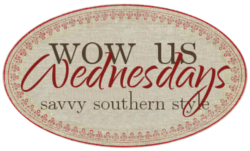 I love linking up at these parties!