It is the final week of the #CraftRoomChallenge, and I'm so happy with my white, bright craft room reveal today! Talk about inspiration to get creative!
I have had the most exhausting fantastic time over the last five weeks, taking tips from the Craft Room Challenge to finally get my office/craft room put into the beautiful, organized space I've envisioned the last four years.
Catch up on my previous weekly challenges for Weeks One, Two, Three, and Four
Week One of the Craft Room Challenge will show you the mess I started with, and the following weeks will lead you through my sorting, purging, and organizing. Finally week five – DECORATING, and the final craft room reveal!!
*Post contains affiliate links. Please read my full disclosure here.*
Now, to be fair, I already had done quite a bit of decorating in my craft room, since it doubles as an office for me as I work full-time from home. I really got a lot more done by organizing and purging, but I still want to share the decorative touches I've added over time. These teal and white jars date WAY back in my craft blog days (and have clearly held up well!), plus my Valentine's Day printable that I love too much not to keep up year round.
The office was actually this color pink when we moved in, and I never tried to repaint it. I'm not often a "girly-girl" in my decorating scheme, but the white built-ins against the pink paint was a great accent for all the aqua accents I added over time.
This is one of my favorite pieces of art that I put up – my mom's twin sister drew this picture of Judy Garland from my favorite film, Summer Stock, decades ago. Notice a resemblance to my blog? 😉  My aunt passed away when I was thirteen, so this is a treasured item for me.
My aunt's drawing is actually what inspired me to create this sketch of Marilyn Monroe in my high school art class!
The art I placed about my computer is new, and be sure to check back next week for the tutorial on this fabric wrapped canvas quote!
Probably my most favorite new acquisition is my very girly and glam chandelier! Lighting was always an issue, as there is no ceiling light in this room. I scored this pretty chandelier with a swag kit from Wayfair for a steal, and was able to plug it right into the wall!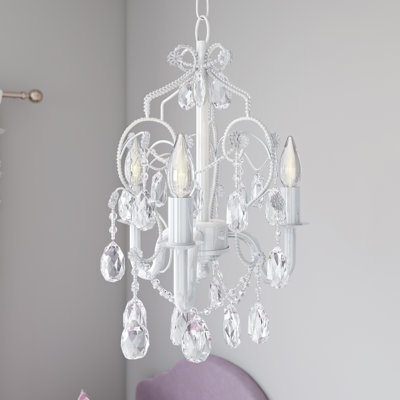 Welcome to the 2018 Craft Room Challenge! From January 3rd through January 31st, 14 crafty bloggers will be sorting, organizing, cleaning, and decorating their craft spaces. Each of us has a very different craft space to tackle, so chances are you will find one similar to yours. We'd love for you to join in on the fun challenge and clean right alongside us. Follow along and join in on social media by using #craftroomchallenge and #confessyourmess. You can also find us and the challenge via our social media accounts you'll see listed on each of our sites. We'll also have 15-minute mini daily challenges for you in case you have limited time to dedicate to the challenge. We hope you share your messy spaces and progress with us so we don't feel alone this month!
Before you see the rest of the crafty spaces, please meet our lovely hosts:
Marie & Aleisha from The Inspiration Vault • Pam from P.S. I Love You Crafts
Yami from The Latina Next Door • Jolene from Create Pray Love
Habiba from Craftify My Love • Lyne from The Paper Addict
Megan from C'Mon Get Crafty • Erlene from My Pinterventures
Shirley from Intelligent Domestications • Valerie from Val Event Gal
Michelle from Our Crafty Mom • Rebecca from The Moments at Home
Stephanie from Crafty Ladybug Creations
Now, let's take a look at their craft rooms and spaces!
More Craft Room Ideas :
Cleaning Work Space by The Inspiration Vault