Baby Photo Cube
Given that my side job to my day job and my blog job and my mom job ( lost yet?) is making Birthday Blocks, its pretty understandable that a go-to gift idea for a friend's new baby is something in block form. Right?
Right.
When my best friend had her third baby girl, I thought a cute little photo cube would make a nice decorative present. I've seen variations on the idea for Christmas and whatnot, so I just sort of winged it, using the newborn pictures of her three girls and that wonder of wonders, Picmonkey.
Have I mentioned I heart Picmonkey?
Pink and brown had kind of been a thing for her daughters ever since her firstborn, so I stuck with it. I got this beautiful digital paper pattern a while back from PoofyPrints on Etsy, an instant download package of designs. I first used them in my Pink & Brown Argyle Birthday Blocks design, but I loved the paper so much, I needed to make another project with it.
I uploaded the background pattern to Picmonkey and used the Overlay tool to add the girls' baby pictures to the top of it. After that, it's really just a matter of playing with the text fonts and colors to come up with a combination that you like. Here's what each of the girls' sides looks like:
For the fourth side, I found a sweet quote online and worked it up:
I left the bottom of the cube blank, since it is meant as a shelf decoration anyway, but I did put a cute title on top, reading "The Hecht Sisters".
Turned out pretty, I thought!
I used digital papers and computer editing, but this would be just as easy to do with regular scrapbook paper and stickers! 🙂
Don't forget to go visit for the other posts in my Baby Series!
How to Make a Diaper Wreath Tutorial  (and Diaper Bouquet!)
Make Your Own Baby Book (with free printables!)
Unique and Fun Baby Shower Gifts 
Baby Photo Cube (you are here!)
What's the most unique baby gift you've received?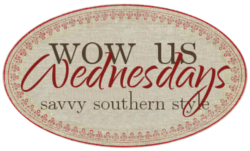 I love linking up at these parties , and at House of Rose!